U.S. Olympic Swimmers Made Up Robbery Story in Rio, Police Say
By
Swimmers claimed they were victims of armed robbery Sunday

Police say athletes were drunk and trashing gas station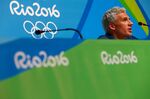 Four U.S. Olympic swimmers, including gold medalist Ryan Lochte, fabricated a widely-publicized story in which they claimed to have been victims of an armed robbery in Rio de Janeiro, Brazilian police said on Thursday.
Lochte said in a series of interviews that he and his swimming mates James Feigen, Jack Conger and Gunnar Bentz were robbed at gunpoint by criminals posing as cops in the wee hours of Sunday, as they returned to the athletes' village after a night out. Their account was a setback for Brazilian authorities, who are carrying out the biggest security operation in the country's history for the Olympic games.
Yet police said security cameras installed in the gas station where the swimmers claim to have been robbed tell a different story. Footage posted on the Internet show Lochte and his colleagues going to a bathroom at the station, and later sitting on a sidewalk as they were apparently prevented from leaving the premise. According to police, they were contained by security guards after they broke property at the gas station and refused to pay for the damage.
"Those were security guards doing what they had to do when a group of people enters the place and starts trashing everything," Alexandre Braga, the head of a special police precinct designed for tourists, told Globo TV. He added the four swimmers were intoxicated and aggressive. "But what they did then doesn't compare to what they did later, which was to fabricate a story that never existed. That was regrettable and not what one expects from an Olympic athlete."
The swimmers eventually left the gas station after turning in some money for the repairs, police said. Unlike in most robbery cases in Brazil, they kept their wallets, watches and mobile phones.
The three athletes still in Brazil are cooperating with authorities and giving additional testimony, United States Olympic Committee Spokesman Patrick Sandusky said in an e-mailed response, without offering more details. The White House is receiving updates on the case from its state consular affairs, spokesman Ned Price wrote in an e-mail. "State Consular Affairs is fully engaged with this case," he said.
Contradictions in the swimmers' testimonies had already emerged on Wednesday, leading a Brazilian judge to order their passports be seized so they remain in the country until the case is clarified. Lochte had already flown out of Brazil when the judge's order was issued. Conger and Bentz were taken off their U.S.-bound plane last night under the judge's order, while Feigen's whereabouts remained unknown.
Changing Accounts
The whole inquiry started after Lochte's mother told media that her son had been robbed. The International Olympic Committee initially denied a robbery had taken place, before backtracking. Lochte, a 12-time Olympic medalist, then delivered details of the incident to NBC in Rio, saying the criminals posed as police.
"The guy pulled out his gun, he cocked it, put it to my forehead and he said, 'Get down,' and I put my hands up, I was like 'whatever.' He took our money, he took my wallet -- he left my cell phone, he left my credentials," Lochte said at the time.
Watch Next: Athletes Have Always Cheated, And They May Never Stop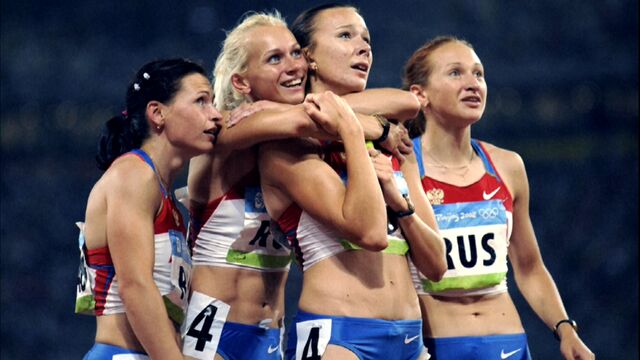 Lochte later told USA Today that he and his three colleagues didn't initially report the incident to U.S. Olympic officials "because we were afraid we'd get in trouble." Back in the U.S., he slightly tweaked his account in another NBC interview but insisted that the robbery had taken place and that he wouldn't make up such a story.
Footage from security cameras posted online showed the swimmers arriving back at the Athletes Village following the alleged incident, looking relaxed as they took out their belongings before passing through a metal detector.
Brazil has deployed around 85,000 personnel, including soldiers and state and city police, to secure Rio for the Olympics. That hasn't stopped crime entirely. Portugal's education and sports minister and two Australian rowing coaches were robbed at knifepoint while walking near the Olympic rowing venue in the days after the Aug. 5 opening ceremony. Members of Australia's Paralympic team were also robbed in the lead-up to the Olympics.