U.S. ELECTION WRAP: Trump, Clinton Burnish 'Law & Order' Brands
While Donald Trump visits a gun range in North Carolina, Hillary Clinton meets with police chiefs from around the country
By , , and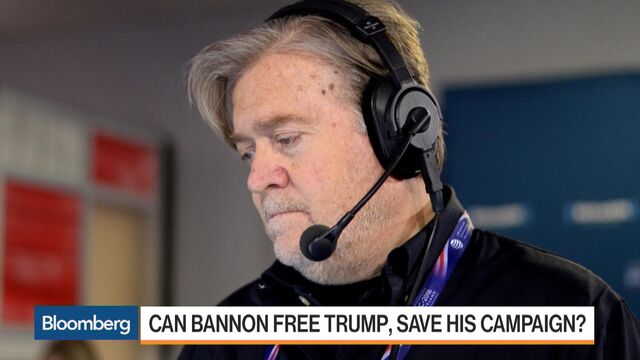 Hillary Clinton huddled with top U.S. law enforcement officers today as Donald Trump fired a gun and won a police endorsement, signs of the fresh spotlight on a perennial issue in U.S. politics.
Trump, stumping in a big NASCAR hub in North Carolina, received an endorsement from the state's Fraternal Order of Police while also making a side trip to a shooting range
"I gotta say, this man can shoot," Iredell County Sheriff Darren Campbell told reporters; Trump used an M4 gun that "a lot of our officers carry," he said
Clinton held a mostly closed-press roundtable in New York City with police chiefs from around the country, including outgoing NYPD Commissioner Bill Bratton, who earlier this month told "CBS This Morning" that Trump "scares the hell out of me"
Clinton, speaking at the meeting's start, said recent outbreaks of violence "underscore how difficult the work is ahead of us" to solidify relations between law enforcement and the communities they oversee

Supporting officers and improving policing go hand in hand, she said

The effort by Clinton and Trump to gain an advantage on crime policy matters came as the Justice Department announced a plan to phase out use of private contractors to run federal prisons

The DOJ said privately run facilities don't offer the same level of safety as government-run prisons and don't save money
The federal government started using private prison contractors in 1997 during President Bill Clinton's administration amid a surge in the number of U.S. inmates; the private prison industry today generates $3.3 billion annually, according to NBC News
The U.S. government overall spent $1.1 billion on private prison contractors in the year ending Sept. 30, 2015, Bloomberg Intelligence analyst Nick Taborek said

The DOJ news sent shares of private facility operators Corrections Corp. of America and GEO Group plunging

Those stocks also fell back in October after Clinton via Twitter said the U.S. needed to end use of private prisons

Trump as of mid-afternoon hadn't commented on the DOJ announcement; he's set to hold a rally in Charlotte, N.C. tonight
Compass Point analyst Isaac Boltansky: "While we admittedly have little insight into how a Trump DOJ would handle for-profit prisons, our sense is that a reversal" of today's move "would be likely"

"We are far more confident that a Clinton DOJ would support" the phase-out, Boltansky wrote in note
Click here to get the U.S. Election Wrap by e-mail every afternoon



POLLS/PREDICTIONS
Nationwide, Clinton's lead over Trump is wide enough, Sabato's Crystal Ball says, that she can win the presidency without winning outstanding toss-up states

Crystal Ball follows same prediction earlier this week by Cook Political Report

Clinton and Trump are in a statistical dead heat in Nevada, according to a Suffolk University poll

Clinton is backed by 44% of state's likely voters, Trump by 42%; in Clark County, which includes Las Vegas and accounts for nearly 70% of vote statewide, Clinton has 13-point lead

Trump and Clinton also are virtually tied in Georgia, according to Fox 5 Atlanta poll; Trump is backed by 43% of state's likely voters, Clinton by 42.8%; Libertarian Gary Johnson is backed by 10.8% and 3.4% are undecided 
Trump today in North Carolina predicted he will do "very well" in the Tar Heel state

FiveThirtyEight prediction model gives Clinton 75.9% chance of winning N.C. if election were held today



ENDORSEMENTS
Former talk show host Montel Williams told MSNBC he's now backing Clinton despite a lifetime of voting mostly Republican

Clinton has become Williams' "second choice" after he supported Ohio Governor John Kasich's GOP presidential bid
Williams said he's backing Clinton even though he's "appalled" by her handling of sensitive material

WIRED is backing Clinton in its first-ever endorsement of a presidential candidate, editor-in-chief Scott Dadich wrote in an editorial today

The magazine sees two possible futures, one in which "society's every decision is dominated by scarcity" and "except for a few oligarchs, nobody has enough of anything"
In the other scenario hoped for by the tech publication, "new rounds of innovation allow people to do more with less work—in a way that translates into abundance, broadly enjoyed"

FUNDRAISING
Clinton running mate Tim Kaine is busy this week in traditionally Republican states, Politico reported

Kaine is set to attend fundraisers in Wyoming and Idaho following a stop in Missouri yesterday
The Clinton camp seeks to put Trump on defense in red states, potentially diverting his attention and resources from battlegrounds

ADVERTISING
Trump campaign, deciding that free media alone will not be enough to win the 2016 presidential election, has ordered broadcast TV ads totaling $4 million over the next two weeks in the battleground states of Florida, Pennsylvania, North Carolina, and Ohio; the first spots will air on Friday

See full Bloomberg story here

Political advertising for the presidential race has dropped 60% from 2012, hurting local TV broadcasters, Bloomberg's Gerry Smith reported

The decline is due in part to Trump's decision not to advertise earlier in the general campaign, though spending could still pick up

INTELLIGENCE BRIEFING
Trump yesterday received his first classified briefing, according to ABC News

Such briefings for presidential nominees began in 1952 under President Harry Truman as way to prepare candidates and familiarize them with U.S. intelligence, Tara Miller, senior policy adviser for the Counter Extremism Project, told MSNBC
Trump and Clinton won't receive the same kind of daily brief given to the president; rather, the briefings for the candidates are similar to those given to members of Congress, Miller said

Trump yesterday told Fox News that he doesn't trust U.S. intelligence information

"Look what's happened over the last 10 years," he said; "it's been catastrophic"
"Bad decisions" have been made, he said, citing the Iraq War

ETC
Trump's tax plan could help leveraged real-estate companies like the one he runs with new and substantial subsidies, Wall Street Journal reported
Clinton, asked by a reporter today about taking time off from the campaign trail, responded, "I wish I could take two days off," adding that she "loved" the political work

Her comments follow Trump publicly questioning Clinton's stamina and health
"She doesn't really do that much. She will give a speech on Teleprompter and then she will disappear," Trump told Fox News' Sean Hannity
"She takes a lot of time off": Trump
Joel Benenson, senior strategist for Clinton's campaign, told MSNBC's Andrea Mitchell there's "absolutely" no issue with Clinton's health and Trump "knows it"
Trump should put out health records as extensively as Clinton has, as well as release his tax returns: Benenson

The Clinton Foundation is countering reports it was hacked, Politico reported
Trump and Clinton each will attend the American Legion's 96th National Convention in Cincinnati at the end of this month, according to a release
Republican National Committee says its Freedom of Information Act request and subsequent lawsuits yielded no records from State Department showing completion of annual mandatory ethics training for Hillary Clinton or eight aides; see story by Bloomberg's  Elizabeth Titus 

Trump should "give up,''  Nobel economist Joseph Stiglitz told Bloomberg Surveillance when asked what advice he would give Trump if advising the Republican nominee

"The second thing I would say is get your math to work,'' said  Stiglitz, who is advising Clinton. "Cutting taxes for the rich increases inequality, doesn't stimulate the economy very much ... and leaves a huge fiscal deficit"



CONGRESSIONAL ELECTIONS 
SENATE RACES
AZ: Republican Sen. John McCain's bid for a sixth term is "a dogfight that is jeopardizing his reputation as a maverick and pitting him against two opponents who illustrate how Trump has scrambled the political season," Bloomberg's James Nash reported

Kelli Ward, pro-Trump ex-state senator taking on McCain in Aug. 30 primary, and Democratic Rep. Ann Kirkpatrick "are squeezing the incumbent from opposite sides of the Trump divide"
McCain campaign released TV ad touting his service as chairman of Armed Services Cmte; spot's narrator says "in a dangerous world, Arizona can't afford Kelli Ward," in part because her strategy to combat Islamic State terrorists is "restraint and realism"
Ad cites June 28 radio interview in which Ward drew contrast between "nation-building" foreign policy of ex-President George W. Bush with "what traditional conservative foreign policy has been, which is restraint and realism;" she went on to say "we have to be willing to decimate ISIS"
Arizona Grassroots Action PAC, pro-McCain super-PAC, has spent about $2m on campaign, including for TV ad released today that attacks Ward on national security policy, links her to Bernie Sanders and liberal Ariz. Democratic Rep. Raul Grijalva
McCain campaign announced support of 50 retired military leaders, including Marine Corps Gen. John Allen, Army Gen./ex-NSA director Keith Alexander, Marine Corps Gen./former Joint Chiefs of Staff vice chairman James Cartwright

FL: GOP Sen. Marco Rubio had $4.6m in campaign cash-on-hand as of Aug. 10 after raising $3.25m since July 1, Tampa Bay Times reported

Rubio has raised $5.5m since announcing re-election campaign June 22, is favored in Aug. 30 primary against homebuilder Carlos Beruff; Rep. Patrick Murphy has White House's support in Democratic primary against Rep. Alan Grayson

KY: Kentucky Moving Forward is new super-PAC that will aid Democratic campaign of Lexington Mayor Jim Gray to unseat GOP Sen. Rand Paul, according to FEC filing and statement from group
OH: Fighting for Ohio Fund, super-PAC working to re-elect Republican Sen. Rob Portman, released TV ad likening Democratic challenger Ted Strickland to used cars

Strickland "drained Ohio's rainy-day fund" when he was governor from 2007-2011, is "a clunker for Ohio," according to ad from group that received $500k in June from billionaire Paul Singer
HOUSE RACES
FL-04: Conservative Outsider PAC, a super-PAC, released TV ad that called former Jacksonville Sheriff John Rutherford "weak on the Second Amendment" and "liberal on immigration"

Rutherford among seven Republicans seeking nomination for Jacksonville-area district of GOP Rep. Ander Crenshaw, who's not seeking re-election
Conservative Outsider PAC raised $170k through June 30 from donors including $25k from St. Augustine-based Ring Power Corp., according to most recent Federal Election Commission report

FL-05: Democrat Al Lawson raised $50k from July 1 to Aug. 10 from donors including PACs of Fla.-based U.S. Sugar Corp. and Washington-based Associated Builders and Contractors, according to Federal Election Commission filing

Lawson, ex-state senator, waging primary challenge in Jacksonville-to-Tallahassee district against Rep. Corrine Brown, who was indicted last month in fraud scheme involving education charity; Brown has denied wrongdoing, seeks 13th term in revamped district
Lawson had $120k cash-on-hand Aug. 10 compared with $25k for Brown

FL-18: Republican Carl Domino in TV ad attacked Obama administration's "weakness" on national security, narrator said Domino will "will work with Donald Trump, not against him, to make America great and safe again"

Domino, retired businessman primarily self-financing his campaign, among six Republicans seeking nomination in slightly GOP-leaning southeastern district of Democratic Rep. Patrick Murphy, who's running for Senate and who beat Domino 60%-40% in 2014
Republican lawyer Rick Kozell received donation from centrist Republican Main Street Partnership PAC, according to FEC report
Democratic primary includes businessman Randy Perkins, lawyer Jonathan Chane

FL-23: Democratic Rep. Rep. Debbie Wasserman Schultz's primary challenger Tim Canova raised $1m, spent $1.5m in 41-day period ended Aug 10, per FEC report
MN-03: GOP Rep. Erik Paulsen and Democratic state Sen. Terri Bonoff held debate yday before TwinWest Chamber of Commerce; watch it here

"In a year of sharp political contrasts, the two covered a rather narrow band of Chamber of Commerce-friendly, suburban middle-of-the-road political thinking in their debate," Pioneer Press's Rachel E. Stassen-Berger wrote
Paulsen seeking fifth term in suburban Twin Cities district that backed Obama in 2012 election by <1 percentage point
Before it's here, it's on the Bloomberg Terminal.
LEARN MORE