Brexit Means Little to British Consumers When the Sun Is Shining
by
Retail sales surge 1.4% in best July performance since 2002

Slide in sterling after Brexit prompted watch, jewelry spree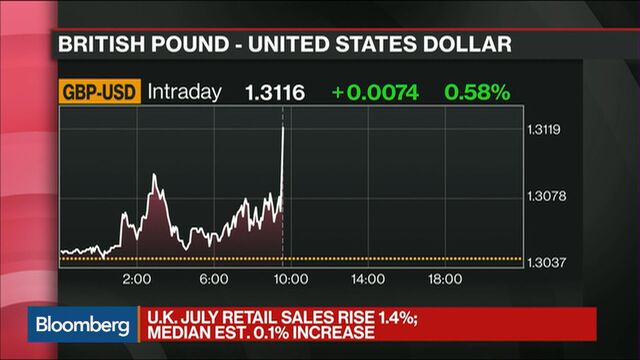 The U.K. consumer is looking strong for now, shrugging off any Brexit anxiety to enjoy the biggest summer splurge in 14 years.
The unexpected 1.4 percent increase in July retail sales reported on Thursday was the best for that month since 2002. It tallies with an industry survey this month showing that warmer weather boosted purchases of summer clothing, food and barbecues. Kingfisher Plc, Europe's largest home-improvement retailer, said that while the vote to leave the European Union created economic uncertainty, there's "no clear evidence of an impact on demand."
The apparent resilience of household spending bodes well for the current quarter after surveys indicated consumer confidence was slumping and industry reports suggested the economy could be heading for its first contraction in almost four years. But the outlook remains uncertain, and separate data this week pointed to faster inflation and a weaker employment backdrop ahead.
"We doubt that it is sustainable," James Knightley, an economist at ING in London, said of the strength of consumer spending. "Inflation is starting to rise and will continue to do so due to the steep fall in sterling, meaning that real household-income growth will weaken. This is likely to limit retail-sales growth in coming quarters."
Pre-emptive Response
The potential fallout from Brexit has already prompted a response from the Bank of England. The central bank cut interest rates for the first time in more than seven years and restarted quantitative easing as it lowered forecasts for growth and Governor Mark Carney said the U.K. was in a period of "heightened uncertainty."
The pound has dropped more than 12 percent against the dollar since the Brexit vote, and the first ripples of that through the economy were seen on Tuesday. While consumer-price growth nudged up to 0.6 percent from 0.5 percent, input costs surged 4.3 percent, the most in three years, indicating stronger inflation building in the pipeline.
A day later, labor-market data showed strong headline numbers, though there were signs of weakness. Job vacancies continued to fall in July, indicating some caution creeping into companies' hiring plans, and one-month data showed the unemployment rate rose in June to 5.1 percent.
Against that backdrop, analyst Sam Hill at RBC in London said the July retail strength -- up 5.9 percent from a year earlier -- is a "potential red herring."

While a weaker sterling may be encouraging overseas visitors to buy more in the U.K. -- sales of watches and jewelry climbed an annual 16.6 percent in July -- it poses a longer-term threat to domestic demand. Growth in the value of sales outpaced volumes, pointing to fading deflation.
According to RBC's Hill, if this is a currency effect, the squeeze on consumers could intensify as the full impact feeds into prices over the coming months. Economists expect inflation to quicken to 2.3 percent in the first half of 2017, with some seeing a 3 percent rate by the end of that year.
"As that happens, consumers won't find it so easy to increase the volume of their consumption without a corresponding increase in expenditure," Hill said. "Such expenditure increases are likely to be constrained as average earnings growth continues to find it difficult to register gains substantially above 2 percent."
For now, consumers still look to be driving the economy, as they have in recent years. Next Plc, the U.K.'s second-largest clothing retailer, said earlier this month it had seen little evidence of Brexit fears inhibiting consumers.
"Consumers are affected by changes in interest rates and employment levels," Chief Executive Officer Simon Wolfson said. "Until Brexit impacts those realities, I don't think we will see any impact on demand."
Price Wars
A seemingly endless supermarket price war in Britain may also help to keep costs -- at least for essentials -- in check. Wm Morrison Supermarkets Plc announced another round of reductions this month, lowering more than 1,000 items by an average of 18 percent in a bid to squelch any Brexit fears.
"Business investment is likely to contract in the coming quarters, but if households keep spending as we expect, the U.K. will avoid a recession," said Kallum Pickering, an economist at Berenberg Bank in London. "Households are well placed to ride out a period of turbulence. Fundamentals were strong heading into Brexit."
Before it's here, it's on the Bloomberg Terminal.
LEARN MORE