Turks Moving Savings to Foreign Currencies Impede Lira Rally
by
Locals added $1.9b into foreign-exchange deposits last week

Currency has appreciated more than 5% since July 20 record low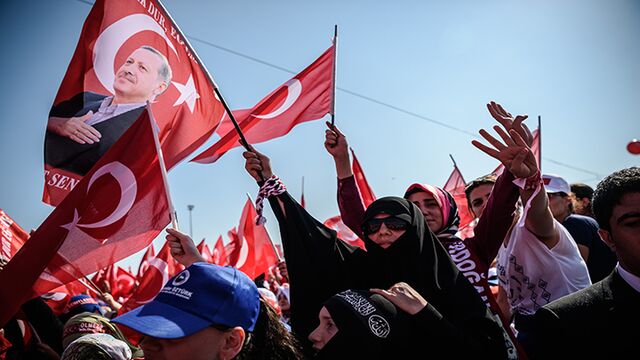 The rally that made the lira one of the biggest winners of the hunt for higher-yielding assets is coming up against a domestic hurdle: Turks are starting to boost their foreign-currency holdings.
Households and businesses in Turkey moved $1.9 billion into foreign-exchange deposits in the five days through Aug. 12, the first weekly increase since last month's failed coup attempt, according to data from the central bank. The lira is trading near one-month highs after appreciating 5.4 percent from a record low on July 20, the most in emerging markets after the South African rand.

How locals manage their savings has become one indicator of the lira's future course since 36 percent of their 1.2 trillion liras ($409 billion) of deposits are kept in foreign currencies, and they shift funds from one account to another to profit from exchange-rate fluctuations. As the lira slumped past 3 per dollar last month, they bought it, and now that the currency back near 2.90, they're selling again. In this way, Turks cushion the currency at times of weakness, but can also stem gains when sentiment improves.
"We think they will continue to buy foreign exchange in the short-term," limiting the lira's upside, Erkin Isik, a strategist at Turk Ekonomi Bankasi AS in Istanbul, said on Thursday.
Risk Appetite
The inflow into foreign-currency deposits follows three weeks during which locals moved almost $11 billion out of these savings in the wake of the attempt to overthrow President Recep Tayyip Erdogan on July 15.
The currency rebound has also been underpinned by the broader push into higher-yielding emerging-market assets as global central banks ramped up stimulus measures to support growth, while traders pushed back bets for when the Federal Reserve will raise interest rates again.
Foreign investors piled back into Turkish stocks and bonds last week, buying a net $664 million of the nation's securities after selling $907 million since the week ending July 15. That brought the total inflow this year to $4.2 billion.
Turkish 10-year bonds yield 9.84 percent compared with near-zero and negative rates in much of the developed world. The lira weakened 0.3 percent to 2.9310 per dollar by 5 p.m. in Istanbul, trimming its gain in August to 2 percent.
While local investors may keep selling small portions of the liras they accumulated in recent weeks, there's enough momentum for the currency to appreciate to 2.8 per dollar if the Fed keeps interest rates unchanged at its September meeting, Bora Tamer Yilmaz, an economist at Istanbul-based broker Ziraat Yatirim, said by e-mail.
Before it's here, it's on the Bloomberg Terminal.
LEARN MORE