Steve Bannon's Plan to Free Donald Trump and Save His Campaign
Along with campaign manager Kellyanne Conway, Bannon will encourage Trump to cast aside political niceties and aggressively go with his gut.
By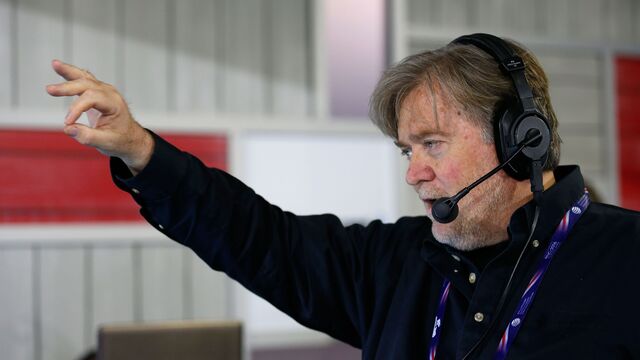 "I am who I am," Donald Trump declared, shortly after the New York Times ran a story depicting chaos in his presidential campaign. "I don't want to change." He wasn't lying. The next day, on Aug. 17, Trump shoved aside his campaign chairman, Paul Manafort, and installed Steve Bannon—ex-Naval officer, ex-Goldman Sachs banker, ex-Sarah Palin filmmaker. Until Trump called, he was executive chairman of Breitbart News, the avatar of the so-called alt-right: the nationalist, racially paranoid splinter group of anti-establishment conservatives who have rallied to Trump's banner.
Since June, Manafort has tried fruitlessly to mold Trump into someone palatable to establishment Republicans and the swing voters he'll need to win over if he's to have any chance of beating Hillary Clinton. Bannon, who becomes chief executive of the Trump campaign, represents a sharp turn in the opposite direction—a fireball hurtling toward the 2016 presidential election. (In announcing the hiring, the Trump campaign quoted Bloomberg Businessweek's description of Bannon from a profile last fall as "the most dangerous political operative in America.") Along with campaign manager Kellyanne Conway, Bannon will encourage Trump to cast aside political niceties and aggressively go with his gut. "I've known Steve for a long time—he is an extraordinary guy, an extraordinary talent, and he, like me, truly loves our country," Trump said in a statement to Businessweek.
Trump's own diagnosis of his campaign's shortcomings led to this unusual prescription—which is the diametric opposite of what most Republicans have been counseling for their embattled nominee. "The campaign has been too lethargic, too reactive," says a senior Trump official. "They wanted to bring in someone who understood new media, understood digital. It's not going to be a traditional campaign." Trump was frustrated by Manafort's efforts to contain him and angry about his plummeting poll numbers. With Bannon in the fold, the source adds, Trump will feel free to unleash his inner Trump: "It's very simple. This is a change election. He needs to position himself as anti-establishment, the candidate of change, and the candidate who's anti-Washington."
The shake-up is an ominous development for Republican elected officials alarmed at Trump's collapse and the effect he could have on down-ballot races across the country. In recent years, Breitbart News has bedeviled Republican leaders, helping to drive out former House Speaker John Boehner and, more recently, making life difficult for his successor, Paul Ryan. Last fall, at Bannon's insistence, Breitbart reporters visited Ryan's Wisconsin home (which is surrounded by a wall) and published a story shaming him for not endorsing Trump's proposal to erect a wall along the Mexico border.
Bannon, who's as eager to attack Republicans as Democrats, is unlikely to worry much about the plight of mainstream GOP incumbents. At a New Year's party at his Capitol Hill home last year, Bannon gave guests silver flasks stamped with his personal motto: "Honey badger don't give a shit."
Bannon's position as CEO of Team Trump could further strain relations between the campaign and the Republican National Committee, which is shouldering the bulk of the ground game. Trump, who suggested during the primaries that the RNC was working against him, later reconciled with RNC Chairman Reince Priebus, whom he dubbed "Mr. Switzerland" for his efforts to bring the GOP establishment behind Trump once he'd secured enough delegates to cinch the nomination.
But dozens of Republicans, including former RNC officials, have since publicly turned against their nominee, urging Priebus and RNC chief strategist Sean Spicer to cut off Trump's funding and redirect the party's money to endangered House and Senate candidates. Bannon himself has a particularly low regard for the RNC's capabilities. "Sean wanted us to partner up on one of the [Republican] primary debates for $350,000," he told me last fall, shaking his head. "I said, 'Sean, I'm not paying you 350 grand to associate Breitbart News with a failed brand like the RNC.'"
"We gauged the interest of a lot of conservative outlets to see if they'd be interested in the process," says Spicer, who insists he didn't offer Bannon a price. In a brief interview, Bannon said he and Spicer, both ex-Naval officers, would work well together. He declined to address criticism of his appointment.
Bannon has also clashed with another senior conservative figure recently brought into the Trump fold: former Fox News Chairman Roger Ailes. Last fall, after Trump attacked Fox News host Megyn Kelly, Bannon and Breitbart News took Trump's side in the bitter divide between what Bannon calls the "establishment Republicans" at Fox News and the populists who have flocked to Trump and Breitbart. According to someone who spoke to Ailes at the time, the anger directed at Fox grew so intense that Ailes asked Bannon to tone down Breitbart's criticism of the right-leaning network. While Trump and Kelly later reconciled, Bannon still nurses a grudge against the Fox host whom he's accused of "treachery" and criticized in a July 29 Breitbart essay for posing in "a risqué nightgown and sexy poses" for GQ magazine.
Trump, however, plainly isn't bothered by Bannon's swashbuckling attacks on fellow conservatives. Given Trump's fixation with the media coverage of his campaign and his Manichean view of the journalists who cover him—you're either on Team Trump or you're not, with Trump always and forever keeping score—it makes an odd sort of sense that Trump would install an outrageous, right-wing media firebrand atop his unorthodox campaign.
Given the steep odds Trump faces in November, speculation has been growing in Washington that maybe what Trump is really up to is trying to lay the groundwork for a future political-media empire—a notion that gained momentum after Ailes, deposed at Fox News in the wake of widespread sexual-harassment allegations, was discovered to be advising him. Having Bannon in the tent, who already runs the most influential right-wing alternative to Fox News, would only make such a project easier to pull off.
In the meantime, Bannon, a campaign novice, has a presidential campaign to run. It's a job that will surely be complicated by Manafort remaining with the campaign and continuing to advise Trump. "This is the bunker scene in Downfall, only the Trump crowd won't tell Hitler the truth. It's utter madness," says Stuart Stevens, who ran Mitt Romney's 2012 presidential campaign. "Trump is a nut, and he likes to surround himself with nuts. It's a disaster for the Republican Party."
Before it's here, it's on the Bloomberg Terminal.
LEARN MORE