This Sneakerhead Made a Stock Exchange for Shoes
Josh Luber's StockX wants to make the prices of rare sneakers as transparent as possible.
By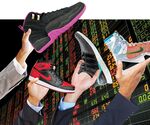 Josh Luber has two great loves: data transparency and sneakers. Four years ago, Luber was a consultant for IBM who spent his spare time bidding for rare shoes on EBay and griping that there wasn't a good way to know how much each pair should cost. So he collected EBay's pricing data and built the kind of guide for sneakers that Kelley Blue Book compiles for automobiles. It became the backbone of his data blog Campless.
Luber's timing was good. Thanks to sales conducted via Instagram and other social media services, the annual market for sneaker reselling has grown to somewhere between $200 million and $500 million, estimates Matt Powell, an analyst for researcher NPD. Campless got backing from billionaire mortgage lender Dan Gilbert and was transformed into StockX, an online marketplace that aims to make the prices of rare shoes as transparent as equities on a stock exchange. On other sites, Luber says, listings are just listings: "You don't know what people are actually paying for those shoes."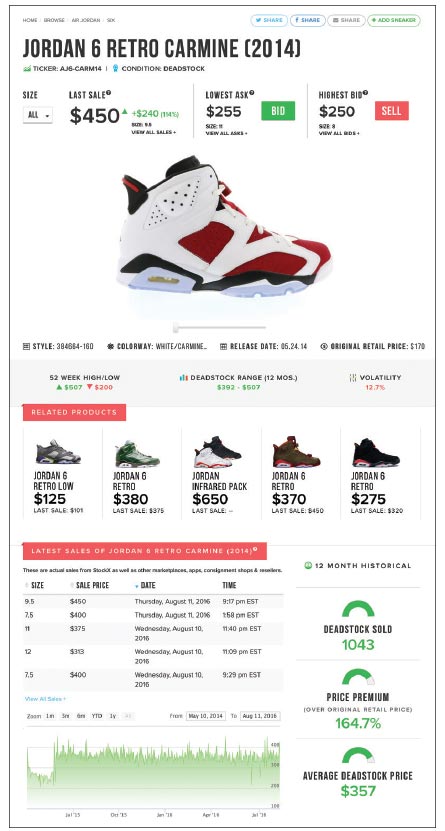 The StockX website features a searchable database of about 5,000 kinds of sneakers, each tagged with a photo that rotates 360 degrees and pricing graphics and data from the shoe's release onward, including recent purchase prices on the site and elsewhere, 52-week highs and lows, and whether certain sizes cost more. The exchange lets buyers and sellers transact anonymously: When a sneakerhead clicks "buy," the seller sends the shoes to StockX's Detroit headquarters; in-house experts verify they're genuine and unused; and StockX delivers them, charging the seller 10 percent on the transaction. Sellers just post their price—no profile bios, no photos.
"That's the revolutionary part," says Luber. "That doesn't exist in any form of commerce except the actual stock market."
People are free to show off if they want. Actor Mark Wahlberg invited StockX over to catalog his collection, joining the list of users who post public inventories of their sneakers and let the service rank the value of those portfolios. (Wahlberg's is worth about $100,000.) That's one of many ways Luber and his 21 employees are trying to scour new data on the sneaker resale market, which they also use when they consult for hedge funds and banks looking to invest in shoe companies.

Luber says that after the shoe industry took notice of Campless in 2014, he began meeting with potential investors about turning it into a marketplace. Gilbert, the founder and chairman of Quicken Loans and owner of the Cleveland Cavaliers, was the first to pitch him a more ambitious idea—an exchange that can also resell clothes, watches, wine, and classic cars. "Dan wants to be in every vertical, in every country, overnight," Luber says. "We're trying to manage the best way that's logical to get there." Gilbert didn't respond to requests for comment.
The two men agreed the sneaker boom made that market a good test case, says Luber. StockX began processing transactions on its exchange in February; Luber declined to disclose revenue or investment capital.
Before StockX starts dealing in Ferraris, it'll have to prove that consumers will really make purchasing decisions with all the data it's hawking. Chen Grazutis, an analyst for Bloomberg Intelligence, says the parties most interested in Luber's holistic pricing profiles may well be manufacturers looking to test the popularity of new models in the rabid reseller market.
On Aug. 16, StockX took its first step beyond shoes with what it's calling an initial public offering—a first run of limited-edition T-shirts and posters that Roc-A-Fella Records is selling to commemorate the 20th anniversary of Jay Z's debut studio album, Reasonable Doubt. After a 48-hour pre-bidding period, buyers were able to resell the items immediately.
"It's definitely a better business model than going to the stores, right?" says Roc-A-Fella co-founder Kareem "Biggs" Burke. "There's more upside, and there's also a built-in consumer base." People used to buy sneakers to match their streetwear, adds Burke, but these days the shoes come first.
The bottom line: For 10 percent of sales made through its platform, StockX offers a largely anonymous, data-heavy exchange for rare shoes.
Before it's here, it's on the Bloomberg Terminal.
LEARN MORE