The Pill That Made Northwestern Rich
Royalties from Lyrica boosted the school's $10 billion endowment.
By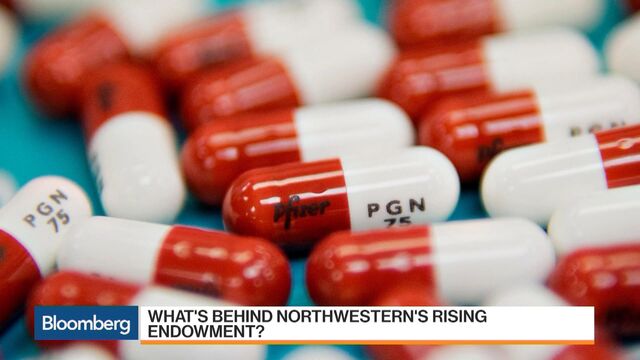 Lyrica, a drug used to treat nerve pain and seizures, has had a unique side effect: It's helped Northwestern University build the eighth-largest college endowment in the U.S.
Initial research for the drug was conducted in a lab on the Evanston, Ill., campus about three decades ago. It eventually became Pfizer's top-selling drug, generating $4.8 billion in revenue in 2015. That kind of blockbuster drug discovery is unusual, even for a major research school. But even more uncommon is what Northwestern's then-president, Henry Bienen, decided to do with the university's share of those sales.
In 2007, Northwestern sold the rights to about half of its Lyrica royalties for $700 million. Typically, schools that cash in big pharmaceutical royalties plow the money into one-time expenses such as new science buildings. Bienen instead invested almost "every penny" in the endowment. Total royalties amounted to about $1.4 billion, including annual payments plus the value of the rights the university sold. With compounded growth over a decade, Lyrica is now responsible for as much as 18 percent of the $10 billion Northwestern endowment.
Bienen feared that spending all the money immediately would leave the school with expensive new projects and faculty it might not be able to afford in later years. "Lyrica gave you a huge shot," says Bienen, who retired as president in 2009. "The idea was that growing the endowment would be good for the long run."

Getting part of the money upfront and investing it allowed Northwestern to diversify away from a single product. The move "took risk away," Bienen says. A competing drug could come along, or something could go wrong—such as unforeseen side effects—in later years.
Investing the Lyrica windfall has generated returns that have been used for financial aid and health insurance for graduate students, funding for unpaid internship programs, and grants for low-income undergrads. Money has also gone to fund research and help retain faculty. "If someone gets an offer from another great school," Northwestern now has a greater ability to bolster retention packages, says Morton Schapiro, who succeeded Bienen as president. "It's special money," he says.
Universities with large endowments have recently come under congressional scrutiny for the tax-exempt status of their funds and how much of that money they spend to alleviate the cost of tuition. Tuition, room and board, and other expenses for a Northwestern undergrad run about $70,000 a year.
"I'm acutely aware that we're supposed to serve the public good," Schapiro says. "When people get on my case, saying, 'You have this big endowment—what are you doing for society?' At the top of my list is Lyrica." The drug, Schapiro says, has allowed some people who suffer seizures to begin driving again. Bienen says his late sister took the drug to lessen pain from breast cancer.
The path to creating Lyrica began in the late 1980s, when chemistry professor Richard Silverman designed the molecule pregabalin and a visiting fellow, Ryszard Andruszkiewicz, synthesized it. Less than a decade earlier, a federal law had enabled universities to keep the proceeds from inventions, many of which arise from government-funded research.
A unit of Warner-Lambert obtained the rights from Northwestern to develop pregabalin. The company was acquired by Pfizer, which won Food and Drug Administration approval in 2004 for the drug, branded Lyrica. The non-opioid drug addresses the kinds of pain that are thought to be particularly resistant to treatment, says Chaim Putterman, chief of rheumatology at Albert Einstein College of Medicine.

Northwestern initially got a royalty of 6 percent of net sales and shared a quarter of that with Silverman and Andruszkiewicz. The school sold its first big chunk of Lyrica royalties in 2007 to Royalty Pharma in New York. In a later sale in 2013, it sold an additional portion for $290 million to HealthCare Royalty Partners and the Canada Pension Plan. The school kept some non-U.S. royalties. The U.S. patent for the drug expires in 2018.
Royalty Pharma has also purchased royalties from New York University, which got $650 million for the rheumatoid arthritis drug Remicade, and Emory University, which received $525 million for Emtriva, an HIV drug. This March the company made a deal worth $520 million with the University of California at Los Angeles for Xtandi, a prostate cancer treatment.
Given the long time lag between a discovery and a marketable product, inventions aren't an easy or sure way for most schools to get rich. Only 15 universities produced about 70 percent of all patent-license royalties for U.S. schools in 2014, says the Association of University Technology Managers. Northwestern ranked first with $361 million.
"There are a lot of duds," says Andrew Lo, a professor of finance at MIT's Sloan School of Management, who wrote a paper about Royalty Pharma's business model and has since become an investor in the company. "A lot of academic research isn't designed to produce blockbuster drugs. You never know when you'll get a home run."
—With Robert Langreth
The bottom line: A discovery by a Northwestern professor has generated as much as 18 percent of the university's endowment.


Before it's here, it's on the Bloomberg Terminal.
LEARN MORE