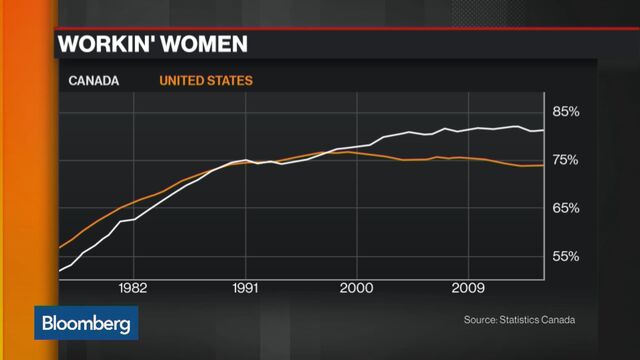 For neighbors with similar gender attitudes, it's surprising to see a widening divergence in the share of women in the labor force in the U.S. and Canada.
The percentage of women in their so-called prime working years participating in the labor market declined to 74 percent in the U.S. last year, while in Canada it rose to 81 percent. The biggest shifts are a drop in participation by younger women in the U.S. and gains for older Canadians. Both countries are seeing women studying more and waiting longer to start smaller families, with Canada offering more generous parental leave benefits.

The trend is a sea change from the 1970s and 1980s when the U.S. was ahead, and economists for years have questioned the shift between major trading partners, which share similar views that encourage gender equality.
Statistics Canada on Wednesday broke out comparable data for women by age and education and found important clues on what's happening:
Labor market participation among older American women with some post-secondary education dropped to 76 percent last year from 81 percent in 1997. In Canada, the rate climbed to 85 percent from 78 percent 
The U.S. now lags Canada in every major age and education category on female labor force participation, while in 1997 the nation was behind only among older women with an advanced post-secondary degree
American female unemployment was greater than Canada's from 2008 through 2014 as the countries dealt with recessions
The long-term nature of the job market shifts mean that it may be a while before the U.S. could regain the advantage. Even this study creates new questions as much as figuring past changes, such as why so little of the gains for older Canadian can be traced back to education, a traditional benchmark.
 "The area of 45 to 54 year-olds is an area that needs more research," Statistics Canada researcher Marie Drolet, a co-author of the paper, said by phone. "There are other factors at play" besides education, she said.

The researchers also pointed out that participation rates in 2014 for Canadian mothers with young children was 8 percentage points higher than in the U.S. Canada offers parents up to one year of paid leave. In the U.S., workers are entitled to 12 unpaid weeks.




Before it's here, it's on the Bloomberg Terminal.
LEARN MORE