Private Prison Stocks Sink After U.S. Signals the End
by and
Prison REIT shares plunge after Justice Department decision

Immigration bureau, California unaffected by federal order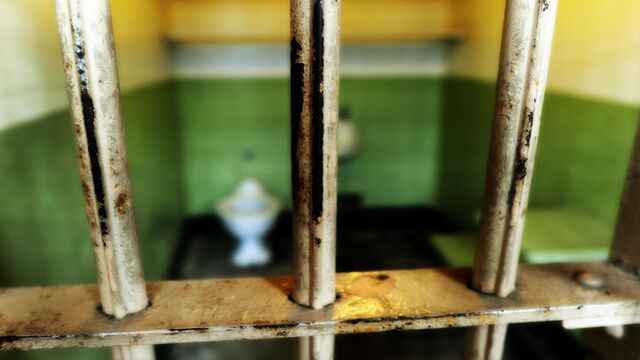 The U.S. Justice Department halted a decade-long experiment of hiring private companies to help manage the soaring prison population, sending shares of facility operators Corrections Corp. of America and GEO Group Inc. plunging.
Corrections Corp. fell 35 percent to $17.57 at the close of trading, the real estate investment trust's biggest drop since its initial public offering in 1997. GEO Group plummeted 40 percent to $19.51, also the largest decline in its 22-year history as a publicly traded company. The stocks pared losses of about 50 percent as analysts said the impact may be less severe than initially expected. Corrections Corp. climbed to $18.85 in after-hours trading after saying that today's decision relates to facilities that represent just 7 percent of its business. GEO Group rose to $20.72.
The Federal Bureau of Prisons will phase out the use of privately operated prisons with the goal of ultimately ending contracts with them, according to an order today from Deputy Attorney General Sally Yates. Private prisons "simply do not provide the same level of correctional services, programs and resources" and "do not save substantially on costs," and there's less need for such facilities as the federal prison population declines, she said.
"I am directing that, as each contract reaches the end of its term, the bureau should either decline to renew that contract or substantially reduce its scope in a manner consistent with law," Yates said in her memo. The Federal Bureau of Prisons accounts for 25 percent of the U.S. Justice Department's budget annually, Yates wrote.

While the federal government overall generated 51 percent of Corrections Corp.'s revenue last year, today's action affects the Bureau of Prisons and doesn't apply to U.S. Immigration and Customs Enforcement, which is part of the Department of Homeland Security and accounted for 24 percent of Corrections Corp.'s 2015 revenue, according to the company's annual report. The Justice Department also oversees the U.S. Marshals Service, which accounted for about 16 percent of Corrections Corp. revenue.
"This policy shift is clearly a negative for the publicly traded for-profit prison companies, but it is far from a death sentence," Isaac Boltansky, an analyst at Compass Point Research & Trading LLC in Washington, wrote in a report today.
The Justice Department action also has no direct impact on Corrections Corp.'s biggest state customer, the California Department of Corrections and Rehabilitation. The state already has been moving to comply with a previous court order to reduce its prison population, said spokesman Joe Orlando. The California department, which has contracts with Corrections Corp. for seven in-state facilities and three out-of-state sites, accounted for 11 percent of the company's 2015 revenue, according to its annual report.
Incarceration Growth
The Federal Bureau of Prisons began contracting with private operators about 10 years ago, after incarceration grew beyond what it could handle. The U.S. prison population increased by almost 800 percent between 1980 and 2013, often at a far faster rate than the Bureau of Prisons could handle at its own facilities, according to the Yates memo.
But cracks in the plan emerged, with incidents of assault and other problems in private facilities piling up. By 2013, with both the federal prison population and the proportion of federal prisoners in contracted facilities reaching their peak, the bureau was housing about 15 percent of prisoners, or almost 30,000 inmates, in privately operated facilities. That same year, the Justice Department began to identify reforms, leading to actions including a decision three weeks ago to end a contract for about 1,200 beds and today's call to phase out contracts with private operators in future.
"These steps will reduce the private prison population by more than half from its peak in 2013," Yates said.
Largest Owner
Corrections Corp., the largest U.S. owner of private prisons, owned or controlled 49 facilities and 25 halfway houses, and managed an additional 11 sites owned by its government partners as of June 30, according to its second-quarter regulatory filing. At GEO Group, U.S. government agencies accounted for 45 percent of revenue in 2015, according to the company's annual report. GEO Group has been trying to win new clients and also operates facilities in Australia, South Africa and the U.K.
"We value our partners, and we will continue to work with them, both through the types of management solutions we've provided for more than three decades, as well as new, innovative opportunities we've been exploring in recent years in a proactive effort to meet their evolving needs," Corrections Corp. said in an e-mailed statement. "It's important to note that today's announcement relates only to BOP correctional facilities, which make up 7 percent of our business."
'Not Imminent'
GEO Group said the impact of the decision "is not imminent" and it has a partnership with the Bureau of Prisons going back to the 1990s.
"At the federal level, our facilities have a proven track record of providing cost-effective, high-quality services" and the company will continue to work with all its government partners to ensure safe and secure operations at its facilities, it said in a statement.
Corrections Corp.'s contracts with government entities typically run for as many as five years, with renewal options. The company said in its annual report that 24 facility contracts are scheduled to expire on or before Dec. 31 of this year with renewal options, and 10 others are set to end without potential for renewal. Revenue from the 34 contracts last year was $594 million, or 33 percent of the total.
Stock Options
Seven years of stock options granted to Corrections Corp. Chief Executive Officer Damon Hininger plunged underwater with today's stock decline. Hininger had 474,367 stock options at the end of 2015, according to a company filing. Those would have been worth $3.22 million if exercised at $27.22, Corrections Corp.'s closing price yesterday. Hininger's options have strike prices between $17.38 and $24.
Stock options were eliminated from Corrections Corp.'s compensation plan in 2012 and were replaced with restricted stock and performance shares. Payout of the performance awards is based on funds from operations per share.
The company's $350 million of 4.625 percent notes plunged 16 cents on the dollar to 86 cents at 4:04 p.m. in New York, according to Trace, the bond-price reporting system of the Financial Industry Regulatory Authority. That was the biggest slump among corporate bonds tracked by Trace on Thursday. The notes were sold in 2013 and mature in 2023, according to data compiled by Bloomberg.
'Criminal Aliens'
The majority of inmates held at the private facilities targeted by the Justice Department are sentenced "criminal aliens," according to the Bureau of Prisons. That largely encompasses undocumented immigrants convicted of drug offenses or entering the U.S. without proper documentation. In the past decade, the number of criminal aliens kept in privately operated facilities has grown, partly as a result of a 2005 joint federal initiative called Operation Streamline that aimed to increase criminal prosecutions of those illegally crossing borders. 
Of the 13 contract-prison locations managed by the Bureau of Prisons, 11 are so-called Criminal Alien Requirement prisons, according to Bob Libal, executive director of Grassroots Leadership, an advocacy organization based in Austin, Texas, that opposes private prisons. Such facilities have been criticized over allegations of prisoner mistreatment, malnutrition and substandard medical care, and there have been riots at some of the prisons.
The federal action won't affect contracts with individual U.S. states, and larger state-level contracts are "arguably more important" for the private prison operators, Daniel Hanson, an analyst at Height Securities, wrote in a report today. Furthermore, Corrections Corp. and GEO Group facilities "are vital to the smooth functioning of the federal prison system and they will remain integral over coming years," he said.
"While the Obama administration may desire a reduction in the use of private prisons at the federal level, we believe that this goal is more aspirational than attainable," Hanson wrote.
Before it's here, it's on the Bloomberg Terminal.
LEARN MORE