McCain Runs Against Trump Effect in Bid for Sixth Senate Term
By
Arizona senator faces tough primary and general-election foes

McCain's brand as a maverick at risk as Trump upends race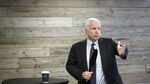 Christopher Boozer is the kind of guy who gets invited to a roundtable discussion with Arizona Senator John McCain. But Boozer, a black Republican and son of a military veteran, says he won't be voting for McCain in November.
Instead, the 39-year-old Boozer is planning to cast his ballot for McCain's Democratic opponent, saying the five-term Republican senator is "out of touch" and partly responsible for the rise of Donald Trump.
What could have been a valedictory, sixth campaign for the U.S. Senate seat McCain has held since 1987 has instead turned into a dogfight that is jeopardizing his reputation as a maverick and pitting him against two opponents who illustrate how Trump has scrambled the political season.

McCain, 79, first has to fend off a primary challenge from a Trump acolyte who criticizes the senator for distancing himself from the New York real estate developer. Then he'd face a tough general election against a Democratic congresswoman who faults McCain for endorsing a man who mocked him for being taken captive during the Vietnam War. Meanwhile, Trump's own sinking poll numbers are emboldening Democrats to make a serious bid for Arizona for the first time in 20 years.
McCain's awkward dance with Trump may still work. Boozer, who says he can't support a "bigot" like Trump, agrees that McCain could still pull through, even if Hillary Clinton becomes the first Democrat to win Arizona in a presidential election since her husband's re-election in 1996.
'Doing Just Enough'
McCain has "essentially positioned himself to where he doesn't have to support Trump overtly," Boozer said after a McCain event with the Black Chamber of Commerce and American Legion Post 65 in Phoenix. "He's doing just enough to not hitch himself to the Trump train and not lose all of his voters."
Even so, Kelli Ward, McCain's Tea Party-aligned challenger in the Aug. 30 Republican primary, and Democratic Representative Ann Kirkpatrick, who's vying to be her party's first senator from Arizona since 1995, are squeezing the incumbent from opposite sides of the Trump divide. 
Ward invokes Trump as a political role model and blasts McCain's "tepid" endorsement as "disingenuous pandering," while Kirkpatrick's campaign has produced an ad juxtaposing Trump's more inflammatory comments with McCain's endorsement of "the nominee."
Polling in Arizona is sparse but suggests that McCain holds a sizable lead over Ward in the primary and a smaller lead over Kirkpatrick in the general election.
'Precarious Situation'
Still, McCain is "in a precarious situation," said Christopher Weber, who teaches political science at the University of Arizona. "If he gets through the primary, there's no guarantee he'll do well against Ann Kirkpatrick. A lot of it is going to depend on how well he navigates the Trump campaign and the challenge of whatever comes next."
McCain condemned Trump for criticizing the parents of Army Captain Humayun Khan, who was killed in combat in Iraq, while standing by his endorsement of the presidential nominee. Ward then excoriated McCain for engaging in a "cynical political stunt" and distancing himself from Trump.
Democrats are enjoying the spectacle.
"What people around here loved about John McCain is that he was a maverick willing to stand up to his own party," said Rodd McLeod, a Phoenix-based Democratic strategist who isn't involved in the Senate campaign. "With Trump, he just folded like a tent."
McCain styled himself as a maverick during his presidential campaigns of 2000 and 2008, the latter as the Republican nominee against Barack Obama. The term reflected McCain's willingness to break ranks with most fellow Republicans on issues such as limits on funding of presidential campaigns, diplomatic relations with Vietnam and enhanced interrogation techniques.
No More Maverick
In 2016, McCain finds his own straight-talking image upstaged by a presidential nominee who openly scorns political norms, leaving the senator looking firmly like a man of the establishment. By pivoting between criticizing Trump's statements and maintaining his endorsement of the man he simply refers to as "the nominee," McCain risks playing into the stereotype of a career politician.
On Aug. 5, Trump publicly backed McCain a few days after saying he would withhold his endorsement. Trump has also repeatedly said McCain hadn't done enough for veterans as a senator.
McCain, who remains an influential voice on defense and foreign policy as chairman of the Senate Armed Services Committee, brushed off questions about Trump and the presidential campaign after speaking at events in Phoenix last week, saying his own 33 years representing Arizona in Congress insulate him from trends at the top of the ticket.
"They say that every four years," McCain said of predictions that Democrats could make a play for Arizona. "I have 100 percent name ID. People in Arizona will be judging me no matter who comes in. All our polling data shows that people will make up their minds not on the presidential race."
Hispanic Growth
Democrats say Arizona could be within reach this year because of the growth in the state's Hispanic population and Trump's polarizing rhetoric on Mexican immigrants. About 31 percent of Arizona's population is Hispanic, according to the Pew Hispanic Center, though Hispanic voters accounted for just 17 percent of Arizona's vote in the 2012 presidential election. A Fox News Latino poll released this month showed Democratic nominee Clinton leading Trump by 46 percentage points among likely Hispanic voters nationally.
Ward, who has raised $1.2 million to McCain's $8.7 million, calls McCain a part of the "establishment" who stood by as government became more costly and intrusive and who worked with Democrats on legislation to weaken immigration enforcement.
"I think that's the reason they fear Donald Trump as president," Ward said at a Veterans of Foreign Wars post in Phoenix. "He and I are not part of the global tuxedo club."
In an interview, Ward embraced Trump and his hard-line rhetoric on immigration, trade and other issues.
"I'm proud to say I support Donald Trump," said Ward, a 47-year-old doctor. "You don't hear John McCain say he supports Donald Trump. He'll say at most that he supports the nominee."
Democratic Opponent
Kirkpatrick, a three-term congresswoman who represents Native American reservations and other rural areas of Arizona, mostly refrained from attacking McCain during an interview and a campaign speech last week in Tuba City, an unincorporated town on Navajo Nation land in northeastern Arizona.
"The most common thing I hear is, people can't believe that John McCain didn't stand up to Donald Trump when Donald Trump insulted him," Kirkpatrick, 66, said in the interview, referring to Trump's July 2015 comment that McCain wasn't a war hero because he was taken prisoner. "If he doesn't stand up for himself, he's not going to stand up for Arizona."
McCain declined to respond to criticism from his challengers, saying only that his poll numbers show that Arizonans are judging him on his own merits.
"I'm entirely comfortable," he said.
McCain's endorsement of Trump is less about raw political calculation than simple loyalty to the party to which he's belonged his entire adult life, said Kurt Davis, a friend and informal political adviser who met McCain when the white-haired Navy retiree first ran for Congress in 1982.
"I see a guy who's extraordinarily at peace with himself," said Davis, nonetheless acknowledging that this is McCain's toughest non-presidential race since 1982.
For now, McCain is projecting more bemusement than anger at sharing the ticket with a political novice who could jeopardize his re-election.
"This is the most interesting and confusing presidential campaign any of us have ever seen," McCain told about 500 incoming students and faculty at Grand Canyon University, a private Christian college in Phoenix. "Except we're going to make America great again and it's going to be huge."
Before it's here, it's on the Bloomberg Terminal.
LEARN MORE