Koreans Teeter on Rate Cliff as Personal Loans Jump 13-Fold
By
Personal loans from non-bank lenders soared to $12 billion

'More people will encounter the rate cliff:' consumer group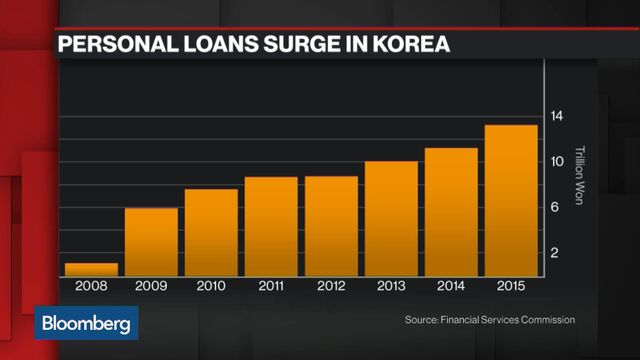 A surge in South Koreans taking out non-bank, personal loans has prompted warnings that bankruptcies will disrupt an already slowing economy.
"As the income gap grows, more people will encounter an interest-rate cliff," said Cho Nam-hee, president of the Financial Consumer Agency, describing the steep jump in borrowing costs to over 20 percent faced by customers rejected by banks. The amount of debt owed to personal-loan providers such as APRO Financial Co.'s Rush&Cash rose to 13.3 trillion won ($12 billion) in 2015, a nearly 13-fold increase since the Financial Services Commission started compiling data in March 2008.

The binge comes as official data show unemployment among young adults is around 10 percent, with the percentage of those working in low-wage or irregular jobs near 20 percent. Of the 2.7 million people who borrowed from such lenders in 2015, the financial watchdog estimates 65 percent used the funds simply to help make ends meet, up from 16 percent in 2008.
"When people lend money with an interest rate that goes over 20 percent, it is easier for them to become delinquent borrowers," said Sohn Sang-ho, a research fellow at the Korea Institute of Finance in Seoul. "Their standard of living suffers as a result. It is inevitable for delinquent borrowers to increase."
Polarized Market
South Korea's interest-rate market started to polarize in the mid-2000s when second-tier finance companies that had attempted to provide mid-range interest rates failed to properly manage the risk, Sohn said.
While commercial banks now provide credit loans at interest rates below 10 percent and Korea's 10-year government bond yields 1.4 percent, non-bank lenders demand more than 20 percent, said the consumer group's Cho.
"It is another world for borrowers" with low ratings, he said. Borrowers are categorized into ten credit levels and about 40 percent of people are ranked below six, Cho said.
Lawmakers are listening. In February, the National Assembly passed a bill that ruled interest rates should be no higher than 27.9 percent. While that reduced margins for non-bank lenders, it also encouraged more aggressive sales activities, according to the FSC. Such rates have been gradually reduced from 66 percent in 2002.
'Vicious Circle'
"Unless the net income of those with low credit improves, they will forever be caught in a vicious circle," said Min Byung-doo, a lawmaker who proposed a bill on Aug. 3 to protect delinquents. Min believes household debt can be a "potential bomb" as a third of economically active Koreans either have these high-interest loans or have defaulted.
The International Monetary Fund last week urged the government to use its "fiscal space" to address high household debt and reduce poverty. The government announced a 10 trillion won supplementary budget in June to create jobs and the Bank of Korea surprised markets with a rate cut the same month.
For the IMF's recommendations on Korea, click here.
The ratio of household debt to disposable income rose to 145.6 percent on March 31 from 140.7 percent on Sept. 30, 2015, the Bank of Korea said in June.
The FSC is acting to stave off any crisis, initiating tougher mortgage loan screening at banks in February. Yet the rising risk of household debt may make banks even more reluctant to lend to the poor, the BOK warned last month.
"As the economy becomes more sluggish, the number of people who need to borrow at a mid-range interest rate increases," said the Institute's Sohn. "There is no money being lent to these people at such rates so it becomes harder for them. The hole gets bigger."
Before it's here, it's on the Bloomberg Terminal.
LEARN MORE