At Jefferies Equity Unit, Many Changes After Bad 2016 Start
by and
Co-Head Rhys Brooks said to be ousted, headed to KeyCorp

Convertible-securities group reorganized with Fordyce promoted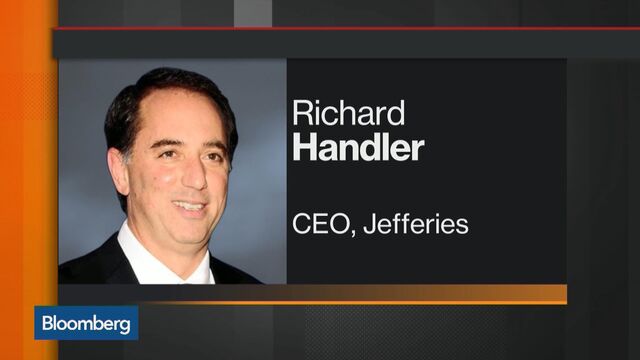 When Jefferies Group reported a 99 percent plunge in quarterly revenue at its equities business early this year, Chief Executive Officer Richard Handler said he was "humbled" and vowed to do better.
How executives are making that happen is starting to become clear.
The investment bank has been cutting some of the division's highest-paid executives in recent months, reassigning accounts to those who remain and pushing some staff to help sell products far outside their normal area of focus, according to people familiar with the matter. In May, the firm removed Rhys Brooks from his post as co-head of cash equity sales trading, and it's now close to completing his separation from the firm, said the people, who asked not to be named discussing personnel and strategy.
Next month, investors will learn whether such efforts have been effective enough to end three straight quarters of revenue declines in the division. Some of the pressure has already eased: Swings in the value of equity positions that contributed to the 99 percent rout in the first fiscal quarter mostly reversed in the second, leaving the business's revenue down only 2 percent in the three months ended May 31, compared with a year earlier.
'Positive Momentum'
Handler and a colleague signaled this month that the bank's third-quarter performance may show further improvement. "Positive momentum" continued into the period, they wrote in an Aug. 3 statement on earnings at Jefferies's parent, Leucadia National Corp., in a passage about the securities firm and another holding, National Beef Inc.
"The results show our equity team has never been stronger and we will continue to invest, encourage teamwork, and do all we can to continue to best serve our clients," Handler said in an e-mailed statement Thursday.
Richard Khaleel, a spokesman for the firm, declined to comment further. Brooks, who spent almost nine years at Jefferies according to regulatory records, had no comment.
Changes across the equities division run by Peter Forlenza are part of a push to improve the bottom line by both limiting costs and helping to drum up business, the people said. Jefferies wants the equities sales force, now led by sole head John Novak as Brooks moves to a unit of KeyCorp, to pitch additional securities. For example, derivatives desk employees have been putting their customers in touch with fixed-income colleagues to promote trading in exchange-traded funds and other instruments.
Job Cuts
That's added to the pressures on equities salesmen, some of whom inherited more clients when Brooks, fellow managing director Martin Smith, and at least two other executives left amid a broader cull of the unit's staff in mid-May. Altogether, the cuts amounted to about 2 percent of the roughly 850 jobs in the business, a person with knowledge of the matter said at the time.
After years of beefing up the equities division, Jefferies is focusing on streamlining as trading fees across Wall Street are squeezed by the migration of investors to cheaper electronic platforms. The trend is hurting the firm's ability to extract more from the business to offset a long-running contraction of fixed-income trading. Annual revenue from fixed-income sales and trading has fallen every year since at least 2012.
Jefferies also reworked its convertible-securities trading desk, another part of the equities business that straddles the stock and bond markets, the people said. The desk's head, Jeff Beckmen, left earlier this year and the firm promoted Keith Fordyce to run the unit, according to the people.
Beckmen, who worked at Jefferies for 24 years, informed the company earlier this year that he wanted to leave to help with a family business, Handler said Sunday in a statement.
"We were fortunate that he agreed to help us through a period of transition that culminated with his retirement from Jefferies in June," Handler said. "Jeff wanted the record to be clear and we are happy to oblige. We are happy for him but extremely sorry for us that he decided to retire as he has always been our kind of guy: productive, profitable, a leader, a team player and an individual who always exhibited genuine pride in himself and Jefferies."
Moving Floors
Managers also intensified their oversight of the converts group, moving traders and salesmen to the equities-trading floor at the firm's New York headquarters on Madison Avenue from the debt-trading floor, the people said. The move allows for better integration into the equities division, one person with knowledge of the matter said. The converts unit, like others at rival investment banks, has seen revenue wane as trading of the securities slides.
Brooks is joining KeyCorp's investment-banking unit this month as head of sales trading, according to Laura Mimura, a spokeswoman for KeyBanc Capital Markets. He'll report to Kevin Kruszenski, head of institutional equities, she said.
Before it's here, it's on the Bloomberg Terminal.
LEARN MORE