Fed's Williams Says He's For Hiking Rates Soon on Strong Economy
By
San Francisco Fed chief warns of risks from waiting too long

Uses language similar to speech before previous rate increase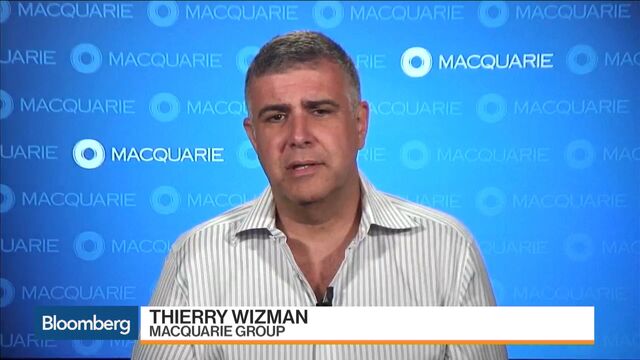 Federal Reserve Bank of San Francisco President John Williams said the U.S. economy is strong enough to warrant an increase in interest rates soon, warning that waiting too long risks high inflation or asset bubbles that would cripple growth.
"In the context of a strong domestic economy with good momentum, it makes sense to get back to a pace of gradual rate increases, preferably sooner rather than later," Williams said Thursday in the text of a speech in Anchorage, Alaska. "An earlier start to raising rates would allow a smoother, more gradual process of normalization."

Williams, who doesn't vote on policy this year, is viewed as an important thought leader on the Federal Open Market Committee because he is a prominent researcher who succeeded Chair Janet Yellen as head of the San Francisco regional bank. His latest comments suggest he may have been among policy makers who advocated an imminent rate increase at July's Fed meeting, and his language echoes a speech he made before last December's interest-rate increase.
The U.S. is "pretty much at full employment now, so the future is less about meeting a goal and more about maintaining a result," Williams said. "The current pace of job gains is well above what we need, which I put to be somewhere around 80,000 a month."
On prices, Williams said "inflation is on course to meet our 2 percent goal," and "we're not quite at our target, but the strength of the labor market should help us along."
"Under these conditions, it makes sense for the Fed to gradually move interest rates toward more normal levels," Williams said.
Longer Term
The tone of his call for an interest-rate hike in the near term contrasts with Williams's longer-term views.
Earlier this week, he issued an essay calling for a major rethink of fiscal and monetary policy, saying that neutral rates -- those that neither spur nor slow growth -- may stay lower than in the past. He suggested that it might be worth creating a higher inflation target or even targeting nominal GDP instead of inflation in such an environment.
While Williams didn't include that call for long-term monetary policy planning in his prepared remarks Thursday, he did reiterate his point on fiscal policy.
"If we want to bend the curve" on slow growth, "it's not going to be through monetary policy," Williams said. "It's going to be through legislative policies that have a chance at fundamentally changing the direction of growth."