Ex-BSI Asia CEO Brunner Settles Singapore Bonus Suit With Bank
by
BSI lawyer says 'good sense' prevailed, terms not disclosed

Brunner had agreed to retire from bank earlier this year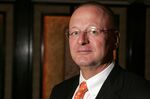 Hanspeter Brunner, BSI SA's former Asia chief who was referred to Swiss and Singapore regulators over the bank's ties with a Malaysian state firm, has settled a lawsuit seeking deferred payments, according to the bank's lawyer.
Brunner's lawsuit alleged that BSI's Singapore unit breached bonus agreements and a separation pact without any legal basis. Brunner, 64, was among six BSI bankers referred by Singapore's central bank to prosecutors over lapses in dealing with 1Malaysia Development Bhd. He's also one of two former BSI executives the Swiss financial regulator has started proceedings against. Brunner's retirement was announced in March.
"Hanspeter Brunner has withdrawn his claim against the bank in its entirety," Muralli Rajaram, a Singapore-based lawyer for BSI, said Thursday by phone, confirming the settlement. "The bank is pleased that good sense has prevailed and is happy with the outcome."
Brunner's lawyer Ng Lip Chih declined to comment. Details of the settlement weren't disclosed.

The Malaysian state investment firm is at the center of multiple international probes into suspected money laundering and embezzlement. 1MDB has consistently denied wrongdoing. BSI's Singapore unit was fined by the city's regulator and is set to lose its license. The bank, which is being taken over by EFG International AG, has challenged the Swiss regulator's decision to seize some of its profits.
The case is Hans Peter Brunner v BSI Bank Ltd, S702/2016. Singapore High Court.
Before it's here, it's on the Bloomberg Terminal.
LEARN MORE