Here's Why Turkey Could Walk Away From Its EU Deal
By
Showdown could loom over October deadline for visa waiver deal

Anti-terrorism laws, human rights questions suggest bumpy road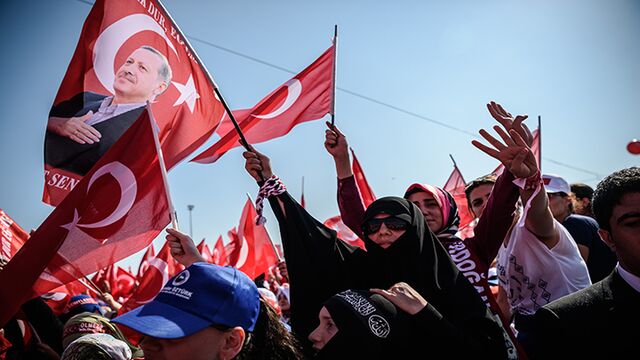 Turkey became a crucial partner for the European Union over the past year as they fought to control the continent's biggest refugee influx since World War II. But European leaders have become increasingly uncomfortable with what they see as authoritarian tactics of the Turkish government, particularly since last month's bungled military coup.
QuickTake Europe's Refugee Crisis
There's a crunch point looming in October, when the EU has to decide whether to allow Turkish citizens visa-free travel under the refugee deal they reached in March. Without visa liberalization, Turkey has said it will walk away from its promise to halt the flood of migrants crossing the Aegean Sea to Greece.
Here are some of the issues clouding the picture:
ANTI-TERRORISM LAWS
When Turkey agreed to help the EU stop the flow of refugees in March, European leaders promised to consider easing travel restrictions for Turks in return. To trigger the concession, Turkey had to modernize its passport process and bring some of its laws more into line with European practice. In May, the European Commission deemed the definition of terrorism in Turkish law as too broad, but Turkey has refused to narrow it. Prospects the law will be softened have grown increasingly slim as President Recep Tayyip Erdogan uses emergency rule powers to crush followers of Fethullah Gulen, the U.S.-based cleric he accuses of masterminding the July 15 takeover attempt.
Ibrahim Kalin, Erdogan's spokesman, said Aug. 10 that the failed coup and attacks by the separatist Kurdish militants show Turkey's "sensitivity" over the terrorism issue is justified.
PIVOTING EAST
Turkey's rapprochement with Russia, after months of estrangement following a military confrontation along the Syria-Turkey border, has heated up since the failed putsch. Russia's Vladimir Putin was the first head of state Erdogan met after the attempted coup, further unsettling Western allies already skeptical of the Turkish president's commitment to democratic values.
While Turkish officials insist a meeting with Putin was agreed to in principle before the coup attempt, they don't hide their disappointment with European leaders, whom they accuse of providing lukewarm support for Turkish democracy in the wake of the coup attempt. Officials say better ties with Putin don't come at the expense of the country's historical alliance with the West.
ROW WITH RENZI
In an interview with Rainews24, Erdogan complained that his son, Bilal, who was implicated in a 2013 corruption probe he quashed, couldn't return to Italy to finish his doctoral degree for fear he would be arrested in a mysterious money-laundering probe. "Why don't they deal with the Mafia and not with my son," he fumed in the interview, Prime Minister Matteo Renzi shot back in a Twitter message: "In this country, judges respond to laws and to the Italian constitution, not to the Turkish president. It's called rule of law."
U.K. FIGHTER JET DELAY
Turkey hoped to soon announce a deal with the U.K.'s BAE Systems Plc to develop its first home-built fighter jet, but those plans have been delayed as the British assess the aftermath of the failed coup attempt. Although the deal is still on, details of the cooperation between BAE and Turkish Aerospace Industries may be announced only toward the end of the year, dealing a blow to Turkey's efforts to develop its domestic arms industry and reduce reliance on allies for advanced military equipment.
"We haven't received the kind of support we were expecting from our allies in NATO and the Western alliance for Turkey's defense industry," Kalin said before the BAE delay became public. "This, naturally, pushes Turkey to search" for alternatives, he said.
SPAT WITH SWEDEN
Turkey found itself in an unexpected tiff with Sweden after Foreign Minister Margot Wallstroem criticized the Constitutional Court in Ankara for changing age-of-consent rules. The Turkish decision "to allow sex with children under 15 must be reversed," Wallstroem tweeted, drawing an angry rebuke from Ankara, which summoned Sweden's charge d'affaires to express its disappointment.
"There is no such stupid thing in Turkey. Please get your facts right," Turkish Deputy Prime Minister Mehmet Simsek retorted on Twitter.
Before it's here, it's on the Bloomberg Terminal.
LEARN MORE