Daimler's Home Divests From Oil, Coal in Growing German Movement
by
Stuttgart divesting to comply with climate-protection criteria

About $679 million, 20% of Stoxx 600 stocks could be affected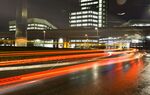 Stuttgart, home to one of Germany's oldest carmakers, Daimler AG, became the latest city to says it's divesting from companies that don't comply with climate-protection criteria.
Tucked in the southwestern corner of Europe's biggest economy, Stuttgart will join Dusseldorf and other cities in withholding its money from companies with stakes in oil and coal, fracking or shale gas, nuclear power and genetically modified goods, according to a municipal statement. The city of 598,000 people is reviewing Stoxx 600 companies to update its policy governing about 600 million euros ($679 million) of investments.
While leaders dither in Germany and across the globe on how and when they'll phase out the dirtiest fossil fuels, individual investors have taken action into their own hands. Two years ago the Rockefeller Fund joined a group of 800 people and institutions that pledged to divest from fossil fuel companies and boost investments in clean energy. Bigger German cities like Stuttgart, run by a Green Party mayor, have since joined the divestment vanguard.
Criteria Compliance
"We've hired an adviser to cross check which of the listed companies don't comply with our criteria and no longer qualify for our investments," said Stuttgart spokeswoman Jana Brown in an e-mail. Some 20 percent, or as many as 120 of the Stoxx 600 companies, including RWE AG. EON SE and Bayer AG, may be barred from the city's portfolio, according to municipal documents seen by Bloomberg News.
Coal Wars Show It's Hard to Live With or Without It: QuickTake
Even as Germany leads Europe in installed green-power capacity, its carbon dioxide emissions remain stubbornly high. Hard coal and lignite generated about 40 percent of all power in the country last year. Battery- or hybrid-run cars make up less than 1 percent of all road registrations.
In addition to Daimler, Stuttgart, with an annual budget of about 6.7 billion euros is home to Porsche SE and Robert Bosch GmbH as well as some 400 small- and medium-sized car parts companies, according to the municipal website. German carmakers have only belatedly committed to electric-vehicle production and trail companies like Tesla Inc. and Nissan Motor Co. Daimler's Mercedes-Benz brand is planning a line of electric vehicles.
Why Road to Clean Cars Has So Many Bumps and Curves: QuickTake
All of Germany's 16 states are required to devise strategy to cut carbon dioxide pollution as much as 95 percent by 2050 in line with Paris Climate Accord goals. As many as six states continue holding significant investments in coal and oil, according to a July report published by Der Spiegel magazine.
In June, Berlin's regional parliament resolved to withhold pension fund investments worth 750 million euros ($849 million) from stocks falling foul of its climate-protection criteria. Dusseldorf implemented a divestment policy from as early as 2007 that pulled its holdings in utility RWE AG.
"We don't want to name and shame companies," Stuttgart's Brown said, declining to provide details of planned municipal divestments. German cities and municipalities can't raise local taxes and have limited access to capital markets to finance payrolls.
States including North Rhine-Westphalia, Bavaria, Saxony-Anhalt and Brandenburg have about 400 million euros in oil companies like Total SA, British Petroleum Plc and Royal Dutch Shell Plc and miners like BHP Billiton Ltd. and Plc, according filings cited in the Spiegel report.
Before it's here, it's on the Bloomberg Terminal.
LEARN MORE