Clinton's Immigration Challenge: Proving She's Not Obama
The Democratic nominee has pledged to go further to help immigrants than the current president.
By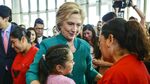 For immigration reform activists, the presidential contest currently underway is not a hard call. "This election presents two clear choices: one that wants to deport me, and my mother and other people back to their deaths, and another one that is open to conversation, that is acknowledging the immigrant community," said Greisa Martinez, the advocacy director for United We Dream Action.