Brexit
Brexit Bulletin: After the Referendum, Brits Went on a Spending Spree
Germany eyes the future. British consumers head to the shops.
By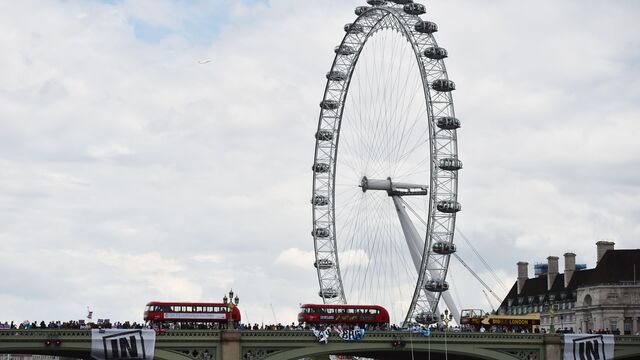 Sign up to receive the Brexit Bulletin in your inbox.
The U.K.'s future relationship with the European Union will require a tailor-made solution, according to Germany, although Prime Minister Theresa May won't be able to cherry-pick the economic advantages.
In an interview with Bloomberg, German Deputy Foreign Minister Michael Roth said it's clear that Britain can't expect access to the bloc's common market unless it allows the free movement of workers that applies throughout the EU.
"This is a historically unique situation," Roth said. "Britain is a major economy and has been an EU member for decades. We will surely reach a custom-fit agreement between the EU and Britain."
Another German official, who asked not to be identified, expressed frustration with a lack of signals from London about what its government is seeking.
High Street Test
U.K. retail sales unexpectedly surged in July as hot weather bolstered sales of clothing and the pound encouraged tourist spending by enough to offset Brexit uncertainty. 
The volume of goods sold in stores and online jumped 1.4 percent, after dropping 0.9 percent in June. That was significantly more than the modest prediction of 0.1 percent in a Bloomberg survey. Sales excluding auto fuel advanced 1.5 percent.
The report suggested the economy started the third quarter on a strong footing, even after the Brexit referendum. The upturn may not last, with some economists saying it will take time for the full effects of vote to filter through.
Kingfisher, Europe's largest home-improvement retailer, said that while the vote created economic uncertainty, there's "no clear evidence of an impact on demand."
Brexit Canary?

George Iacobescu, chairman of Canary Wharf Group, is banking on a new train line to prevent an exodus of bankers from his vast development estate, home to the London headquarters of JPMorgan Chase and HSBC Holdings.
With Canary Wharf a potential Brexit bellwether, Iacobescu is unfazed, Bloomberg's Jack Sidders reports. That's because the opening of Crossrail in 2018 will slash commuter times by connecting the district to London's main transport nodes.
Iacobescu says these links–and the 14 years on average that his leases have left to run–are why he's not worried by warnings that tens of thousands of financial-services jobs could be lost, threatening his main source of revenue—renting office space to banks.
On the Markets
The pound rose to a two-week high on the surprising surge in retail sales. It climbed against all of its Group of 10 peers. European markets were in positive territory at midday in London (7 a.m. New York.)


And Finally...
Remain voters have another reason to resent the referendum result. A study by estate-agency chain Haart found the housing market in areas which wanted to stay in the EU have taken the brunt of falling confidence. Using data on registrations, sales and listing across 20 local branches, Haart found that regions that supported Britain exiting have seen more buoyant property-market activity.
For more on Brexit follow Bloomberg on Twitter, Facebook and Instagram, and see our full coverage at Bloomberg.com