Australia Jobless Rate Falls Amid National Election Hiring Boost
By
Employment buttressed by part-time jobs as full-time slumped

RBA forecasts unemployment to remain around current levels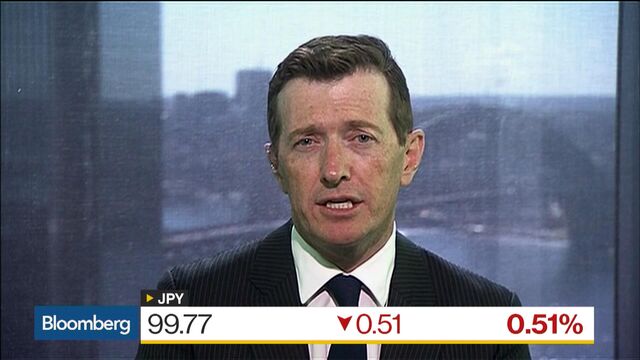 Australia's jobless rate dropped in July as part-time jobs surged amid a national election and census count. The currency gained.
Unemployment dropped to 5.7% from 5.8%; economists predicted 5.8%
Employment rose 26,200 from June; economists forecast 10,000 gain
Full-time jobs fell by 45,400; part-time employment jumped by 71,600
Participation rate, a measure of labor force as a share of the population, held at 64.9%, matching economist estimates

The economy is showing resilience against a difficult global backdrop, with industries like construction, tourism and education helping Australia soak up unemployed miners as a resource boom winds down. Still, a rebounding local dollar -- up almost 12 percent since mid-January -- risks the competitiveness of currency-sensitive service industries while China's economic transition remains another source of nervousness.
Thursday's report recorded the largest loss of full-time jobs since October 2013. Part-time figures posted the biggest gain since February 2009 amid extra hiring for last month's national election and its subsequent prolonged vote-count; roles were also needed ahead of this month's census.
'Fairly Steady'
"While the statistics bureau made no mention of it, reading between the lines, a jump of that magnitude in part-time work has to be associated with the election," said Annette Beacher, head of Asia-Pacific research at TD Securities in Singapore. "The Reserve Bank of Australia is likely to look through all the noise and I think will be relatively pleased with a fairly steady unemployment rate."
Traders are pricing in a just under 50 percent chance the central bank will cut interest rates at its final meeting of the year in December. Accommodative monetary and fiscal policy settings have assisted with the economy's adjustment from mining, including rate cuts in May and this month, when the RBA reduced the benchmark to 1.5 percent.
The Australian dollar traded at 77 U.S. cents at 12:56 p.m. in Sydney, from 76.59 cents before the data was released.
In minutes of this month's policy meeting released Tuesday, the central bank said it cut rates to try to spur faster growth in the economy, against a backdrop of very weak inflation. It also made clear that in the absence of a clear signal on the labor market, it was anticipating unemployment would remain around its current level in coming months.
"There continued to be considerable uncertainty about momentum in the domestic labor market and the extent to which domestic inflationary pressures would rise over the next few years," the central bank said.