Zooming Child-Care Costs Spawn More Trump, Clinton Positioning
by
Both major-party candidates address costs in economic speeches

Debate includes how to provide tax relief, who would benefit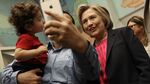 The littlest Americans are now getting bigger play from both major U.S. presidential candidates, exciting child-care advocates and providing another battleground to debate who would best help struggling households.
The skyrocketing cost of child care has caused voter interest in the issue to surge, and more Americans will soon experience the financial burden as millennials born after 1980 reach prime child-rearing age. Donald Trump and Hillary Clinton last week offered different prescriptions that will likely intensify the debate through the November election.
Trump said in Michigan that under his plan, parents would be able to "fully deduct the average cost of child-care spending from their taxes." Among several Clinton proposals is a plan to keep child-care costs below a certain income threshold. What's missing is how each will foot the bill.
"Both of these strike me as huge deficit-increasing plans," said Aparna Mathur, a resident scholar on economic policy at the conservative-leaning American Enterprise Institute in Washington. "And it's not going to solve the problem."
The Republican nominee's strategy of employing tax deductions is missing the point if the goal is helping lower-income workers.
"We know from the data that very few workers at those income levels even take deductions -- they don't even have taxable incomes to begin with," Mathur said.
Clinton latched onto that criticism last week, charging that Trump's plan was "designed for rich people like him" and calculating that it'd provide 30 or 40 cents on the dollar, only to upper-income Americans.

The Trump campaign rebutted the charges in an e-mailed press release less than two hours after Clinton finished speaking, saying the deduction is "strictly capped" at the average cost of care in order to buoy working and middle-class families, while allowing lower-income Americans to deduct it from their payroll taxes.
Trump's policy director, Stephen Miller, said in the release it was just the first of many reforms the campaign will outline in the near term "to provide targeted relief to low- and middle-income families, especially those most in need."
For her part, Clinton has embraced a laundry list of possible solutions, including pre-kindergarten for all 4-year-olds, a cost limit of 10 percent of household income for care, and scholarships of as much as $1,500 for student parents. To that she added one more in her speech in Michigan on Thursday: expansion of the Child Tax Credit.

Expanding Credits
That last proposal might sound familiar, if not fully fleshed out -- it's not much different from what Senator Marco Rubio pitched last year. The Florida Republican proposed a $2,500 tax credit per child, partially refundable against payroll taxes.
Tax credits, like deductions, can also be open to criticism that the benefits won't accrue at all levels of income. Poorer Americans without taxable income wouldn't qualify for relief if the credit were non-refundable, while refundable credits would earn them reimbursement regardless of whether they file taxes.
Clinton hasn't yet addressed the details of the tax credit, even as other parts of her plan are listed on the campaign website. She also hasn't elaborated on how she'd hold the line on child-care costs at no more than 10 percent of household income. 
"Those details have not yet been worked out or are not yet public, but certainly at least there's that commitment to progressivity" in Clinton's plan, said Heather Boushey, executive director and chief economist at the progressive Washington Center for Equitable Growth, which focuses on the impact of income inequality.
For now, child-care advocates are encouraged that the issue is on the agenda.
'Big Issue'
"The fact that Trump is even talking about it suggests that their campaign realizes that this is something that they need to have an opinion on," Mathur said. "I do think it's going to be a big issue -- I think we're going to see more action and more solutions and more policy ideas coming out in the next year."
Voters are energized, with the vast majority of Americans in each political party saying that it's important to make "early education and child care more affordable for working families to give children a strong start," according to a Public Opinion Strategies-Hart Research Associates poll of 800 registered voters conducted May 19-23. Ninety-eight percent of Democrats agreed with the statement, while 86 percent of independents and 82 percent of Republicans also signed on.
And the customer base for child care is slated to pick up in coming years as more millennials become parents and more more men become stay-at-home dads.

"As the generations shift and more millennials are in the workforce, they've had the experience of having two-parent working households," said Liz Shuler, secretary-treasurer of the AFL-CIO. "It is becoming more of a men's issue as well because of the way the workforce now operates."
Before it's here, it's on the Bloomberg Terminal.
LEARN MORE