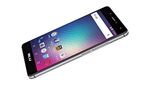 The smartphone ranked No. 1 on Amazon.com's list of top sellers isn't an iPhone or a Galaxy. Its latest version won't get a big coming-out party. It's the Blu Products R1 HD, and starting at $100—with Amazon's subsidies, $50—it's, uh, good enough.
While America's wireless carriers are phasing out subsidies for high-end phones, Amazon is tacking the other way. Starting last month, the retailer began offering Prime subscribers the Blu for $50 if buyers are willing to put up with ads on their lock screens. (It's also selling a similar Motorola phone from Lenovo for $200, or $150 with ads.) Samuel Ohev-Zion, Blu's chief executive officer, isn't coy about who his audience is. "They're not able to afford an iPhone," he says.
The Blu R1 HD, which began shipping last month, has a just-OK battery and cameras and speakers that aren't exactly cutting-edge. The 1 gigabyte of RAM and 8GB of storage space on the cheapest version of the R1 HD is a little anemic, but both can be doubled for an extra $10, putting them in line with the cheapest ($649) iPhone 6S. For $100 or less, it's a better deal than most prepaid smartphones.

"Any Prime member looking for a smartphone with great specs at an incredible price will be interested in this offer," says Laura Orvidas, Amazon's vice president for consumer electronics. Amazon declined to provide sales figures, and Blu says it can't disclose R1 sales because of a confidentiality agreement with Amazon.
Blu has sold more than 40 million of some 200 models since its 2009 founding, mostly in Latin America. But the rollback of carrier subsidies in the U.S. has made the Miami company's home market much more receptive, says Ohev-Zion. "It helped a lot when the carriers started promoting 'bring your own device,' " he says.
Twenty years ago, the Brazilian-born Blu CEO dropped out of high school to sling VCRs and hair dryers at his dad's electronics shop in downtown Miami. When the business failed in 1998, much of the remaining money—$150,000—went to the younger Ohev-Zion to help start Telecel Latin America, a distributor selling name-brand phones throughout the Americas. He created the Blu ("Bold Like Us") brand in 2009, after Telecel merged with another phone wholesaler. "Every time I got a new model from Samsung or Motorola, I was always critiquing," he says. "I always thought I could do a better job than the manufacturer."
Whoops. Half of Blu's first 300,000 phones, with the logo slapped on premade hardware from China, quickly had cracked screens, and many couldn't hold a charge. Spun off as its own company in 2011, Blu hired its own designers and, under Ohev-Zion's direction, fought with manufacturing facilities to improve the phones' quality, hiring independent inspectors to check each order before shipping. In 2015 the company sold more than 10 million phones, and it has expanded to 200 employees in the U.S. and China.
"It's the last American handset manufacturer, besides Apple," says Roger Entner, an analyst at Recon Analytics. "It's Apple and Blu." James Barnes, who lives in Phoenix, bought a Blu Studio 6.0 LTE for his teenage son last year and says the phone's quality was almost as impressive as its price.
Ohev-Zion says Blu is on track to take in $600 million to $700 million in revenue this year and is sold at Walmart Stores and Best Buy as well as on Amazon. The phones are a particular hit in Cuba, where Blu is one of the most recognized brands, says Marguerite Fitzgerald, a partner at the Boston Consulting Group. The next priority is the Middle East, says Ohev-Zion, who adds that he's not forgetting the basics of his pitch. "Our focus has always been to create the best product at the best price," he says. "That's all we worry about."
The bottom line: With Amazon's help, Blu's cheap smartphones have become a hit in the U.S. as well as the developing world.


Before it's here, it's on the Bloomberg Terminal.
LEARN MORE