WWE CEO Vince McMahon Sells 1.55 Million Shares in Estate Move
by
Stock is valued at about $32.5 million based on current prices

Executive says he plans no more sales, intends to stay on job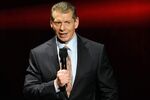 Vince McMahon, chief executive officer of Worldwide Wrestling Entertainment Inc., sold 1.55 million shares of Class A stock in the company as part of his estate planning, a transaction worth about $32.5 million at current prices.
The stock, held by a trust, represents about 2 percent of total Class A and Class B shares of the company, WWE said Thursday in a regulatory filing. McMahon, 71, told the Stamford, Connecticut-based company he has no plans to sell more shares and intends to continue as chairman and chief executive officer for the foreseeable future.
The CEO still controls about 85 percent of the voting power at WWE and about 47 percent of total shares outstanding, the filing said. The company has been the subject of takeover speculation this year, especially after the sale of UFC to WME-IMG for $4 billion.
"There are some people out there saying that McMahon may consider selling WWE," FBN Securities analyst Robert Routh said in a recent interview. "Everybody has their price, they say, but I don't believe that Vince is planning to sell anytime soon."
WWE last month reported better-than-expected growth from its video streaming service. In a July interview, George Barrios, chief strategy and financial officer, said that while the company isn't actively courting buyers, it is always listening "to anything that we thought could help us you know, execute more successfully, more aggressively in terms of what we're trying to do and grow the business. So we're always open to listening."
McMahon controls WWE through his ownership of 39.3 million Class B shares, which have 10 votes each, according to company filings.
WWE was little changed in extended trading after the filing. The stock rose 0.7 percent to $20.97 at the close in New York and is up 18 percent this year.
Before it's here, it's on the Bloomberg Terminal.
LEARN MORE