When a Tech Patent Is Neither
A Supreme Court decision slashes business-method filings.
By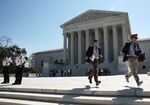 Two years ago, when the U.S. Supreme Court invalidated Alice Corp.'s handful of patents on the concept of an electronic escrow arrangement, it ruled that taking abstract ideas—apparently including established methods of doing business like escrow—and implementing them on a computer doesn't meet the standard of intellectual property. In its unanimous decision, written by Justice Clarence Thomas, the high court refused to precisely define what makes something an "abstract idea." "We tread carefully," Thomas wrote of the new standard for patents. Since then, however, lower courts, and the U.S. Patent and Trademark Office, have been using some pretty heavy boots.
Courts have invalidated more than 370 software patents under the new standard, according to data compiled by law firm Fenwick & West. District and appellate courts have thrown out two of three patents brought before them since Alice Corp. v. CLS Bank.
In a typical case last fall, a federal district court in San Francisco invalidated two patents for methods of processing and storing data, which Judge Ronald Whyte described as something that's "practiced by every local barista or bartender who remembers a particular customer's favorite drink." That one ruling wiped out nine lawsuits that the patent holder—Evolutionary Intelligence—was pursuing against a host of companies, including Apple, Facebook, Groupon, Twitter, and Sprint. "Now we have this gigantic weapon in our arsenal," says attorney Tom Duston of Marshall Gerstein & Borun, which represented Groupon.
It's not just the courts. Fewer than 5 percent of applications for business-method patents are getting approved by the patent office, according to data from law firm Kilpatrick Townsend & Stockton and LexisNexis PatentAdvisor. (A typical approval rate is 25 percent to 45 percent.) When asked how many business-method patents they've approved in the past year or two, patent examiners often say "the answer is zero," according to Kate Gaudry, a Kilpatrick Townsend patent lawyer. "Some of them are saying, 'My hands are tied.' " The number of business-method patent applications has fallen in half since 2014, as patent owners seek different classifications or give up altogether.
David Kappos, a former director of the patent office, says the government agency and the courts should focus more on whether a particular idea is innovative than whether a type of innovation should be patentable. He says the invalidation of patents is "out of control" and has "definitely gone too far," citing a case awaiting an appellate ruling in which a patent has been invalidated for software enabling video game developers to more easily manipulate the movements of characters' mouths to match dialogue. "Important software innovations that are highly technical are being deemed unpatentable," Kappos says. "You can get software patents allowed in both China and Europe that aren't allowable in the U.S. anymore."
These cases, and the patents susceptible to challenges under the Alice ruling, represent only a fraction of the thousands of active U.S. patent suits, says John Amster, chief executive officer of RPX, an advisory firm that helps tech companies lower their risk of patent suits. Still, he says, the ruling has forced litigious patent holders to take settlement offers more seriously. In cases where Alice arguments were raised, defendants had a 76 percent success rate when they filed motions to dismiss at the earliest stages of the suit and a 66 percent success rate when further along, RPX data show.
The new standard extends beyond companies traditionally associated with software. Monsanto General Counsel David Snively says the farming conglomerate intends to keep its new weather-mapping software as a trade secret, protecting it through confidentiality agreements, rather than file for a patent. Hans Sauer, deputy general counsel for the Biotechnology Industry Organization, a lobbying group, says it's become harder to get patent protection for everything from medical diagnostic techniques to laundry detergent enzymes developed from fungi. The knock-on effects from Alice, Sauer says, "are reaching out to patents that no one thought would be vulnerable two years ago."
The bottom line: A 2014 Supreme Court ruling has led courts to toss hundreds of software patents and has halved applications for one type of patent.


Before it's here, it's on the Bloomberg Terminal.
LEARN MORE