U.S. ELECTION WRAP: Trump Banks on Big Comeback as Summer Wanes
The real-estate developer has overhauled his campaign in a bid to regain momentum.
By , , and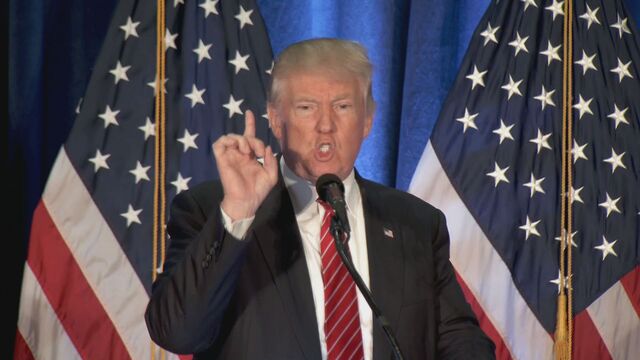 Donald Trump built his persona in part by tapping into one of America's favorite story lines: the comeback.
The billionaire businessman's books include Trump: The Art of the Comeback, and Trump Never Give Up: How I Turned My Biggest Challenges into Success
Now, with Election Day less than three months away, Trump is swiveling, if not fully pivoting, into resurgence mode as he continues to struggle in polls. The revised playbook includes airing general-election TV ads for the first time, bulking up data and field operations and adding two new top aides—veteran GOP pollster Kellyanne Conway and Breitbart News' Steve Bannon
Bloomberg's Joshua Green today listed "10 things to know" about Bannon, a former Goldman Sachs M&A banker tapped to be the Trump campaign's chief executive. Green knows his subject well; last Oct., he wrote a 7,000-word Bloomberg Businessweek piece on Bannon: "This Man Is the Most Dangerous Political Operative in America"
Highlights include the late Andrew Breitbart calling Bannon "the Leni Riefenstahl of the Tea Party movement," and details on his links to Seinfeld, a movie spotlighting Sarah Palin and an anti-Hillary Clinton book
Conway, Trump's newly appointed campaign manager, rejected the notion that the candidate is shaking up his inner circle. Staff changes were needed because the presidential race is now in the "busy homestretch" to Election Day, she told Fox News 
Her role, she said, will likely involve TV messaging as well as traveling more with Trump, and she made clear the Trump camp is embracing its underdog status

"We will never have the money and we'll never have the manpower" Clinton has, "but we don't need it because quality candidates matter"
Conway predicted that the last few days will mark one of the Trump campaign's best weeks, due to policy speeches he delivered on foreign policy and law and order
"The fact is that with Donald Trump, he is still his own best messenger because people see him as very authentic," she said

The shakeup came after former Fox News CEO Roger Ailes urged the GOP candidate to make big changes, Bloomberg's Jennifer Jacobs and Kevin Cirilli reported, citing a person familiar with matter; see story here

RESHUFFLE REACT
Clinton campaign manager Robby Mook told reporters the Trump overhaul shows the GOP candidate "has decided to double down on his most small, nasty and divisive instincts"
At least one GOP strategist—Mike Murphy, who worked for Jeb Bush this year—said he's skeptical whether the campaign changes will make a difference

"I'm dubious because this is staff pivot 3.0," Murphy said on MSNBC's Morning Joe. "Could Trump change? Maybe. But he's Trump. It's unlikely."
"My Labrador could walk up to the piano and start playing—not going to bet on it. Trump is Trump."

Weekly Standard online editor Michael Warren said he was stumped on what to think about the campaign reboot

"If it's a pivot it's a 360-degree pivot," he said in the magazine's podcast. "Trump has pivoted from being Trump back to being Trump. I guess he's now more Trump with this shake up"

The revamp deepens Trump's ties to Robert Mercer, a hedge-fund manager and conservative donor with a taste for bucking the Republican establishment, Bloomberg's Zachary Mider wrote

Bannon and Conway are longtime advisers to the Long Island-based investor and have aided his family on a web of interlocking projects; click here to read full story

Trump's new plan to run more directly against the Washington establishment could force more defections by mainstream Republicans who are increasingly worried about preserving their House and Senate majorities, Bloomberg's Billy House wrote 

ON THE TRAIL
Clinton weighed in on the Trump changes at a rally in Cleveland, calling her rival the "same man"

Trump "can hire and fire anybody he wants from his campaign. They can make him read new words from a TelePrompter. But he is still the same man who insults Gold Star families, demeans women, mocks people with disabilities and thinks he knows more about ISIS than our generals"
"When someone shows you who they are, believe them," Clinton said, quoting late poet Maya Angelou

As Clinton in her remarks criticized Trump's tax plan, Bloomberg's Lynnley Browning noted the Democratic presidential nominee could have cut her tax bill in half under Trump's proposals; see story here
Trump, at a rally outside racially troubled Milwaukee last night, appealed for black voters' support and vowed to get tough on crime

Democrats' policies have failed blacks by worsening crime and poverty, he said
He accused Clinton of being a bigot and pandering to "communities of color"
See full story here

POLLS
Clinton has double-digit leads over Trump in Colorado and Virginia and edges him in Iowa, according to a Quinnipiac University "Swing State" poll

In Colo., Clinton is at 49%, Trump 39%; in Iowa, Clinton leads 47%-44%; in Va., she's ahead 50%-38%

Voters with investments in stocks and mutual funds have lost confidence in Trump when it comes to their portfolios, with a growing share saying they would alter their asset mix if he's elected president, according to a Bloomberg Politics/Morning Consult poll

Trump has a 2-point lead over Clinton among registered voters with money in the market, shrinking from his 17-point lead in June

ENDORSEMENTS
Former U.S. Treasurer Rosario Marin, who served under President George W. Bush, has endorsed Clinton, the Democrat's campaign announced

Marin cited Trump's anti-Hispanic comments in her endorsement, saying she had hoped there would be "significant efforts" from the GOP to appeal to Hispanics
"For me to consider the unthinkable—to vote for a Democrat—has been a profound soul-searching process," Marin said

ADVERTISING
Trump TV ads set to start Friday will air in Florida, Ohio, North Carolina and Pennsylvania, the Wall Street Journal reported last night

The campaign plans to begin buying ad time more widely after September 1; content of spots not yet disclosed



ETC
Trump's campaign overhaul comes amid reports his campaign chairman, Paul Manafort, helped route at least $2.2 million from a pro-Russian governing party in Ukraine to Washington lobbyists, according to AP
Former Reagan aides Larry Kudlow and David Malpass are likely picks for a Trump administration's Fed and Treasury jobs, Cowen analyst Chris Krueger said
Democratic vice presidential nominee Tim Kaine once said Bill Clinton should have resigned the presidency over the Monica Lewinsky scandal, the Daily Beast reported

In an interview with Richmond Times-Dispatch in 2002, while commenting on a sexual harassment scandal in the Virginia state legislature, Kaine called for the House of Delegates speaker to resign, adding he held the same view about Clinton during his presidency
"Somebody in public life shouldn't behave that way toward women," Kaine told the Washington Post

Clinton's campaign strategy relies on early voting, Bloomberg's Sasha Issenberg reported
Clinton also hopes to flip Utah, the state's campaign director said

No Democratic presidential candidate has won Utah since 1964; see full Bloomberg story here 

Fund manager Risto Murto, CEO of Finland's Varma Mutual Pension Insurance Co., said if Trump wins in November, "it will definitely have an impact on monetary policy"

"With Hillary Clinton, it would be business as usual."
See full piece by Bloomberg's Raine Tiessalo

One voter Trump hasn't won over yet is longtime business rival Steve Wynn

"I'm a friend of Donald Trump but I have not supported either candidate in the presidency as yet—I'm friendly with Bill Clinton, I know Hillary," the billionaire casino operator told Bloomberg in an interview. "I'm hoping our conversation in America in this campaign gets to be more substantive about the real issue facing us at the moment and that is a constantly increasing deficit in the government."

SENATE RACES
FL: GOP Sen. Marco Rubio said on Laura Ingraham's radio program that Democratic Rep. Patrick Murphy is "lazy" and a "very privileged guy" with an "atrocious" voting record, Tampa Bay Times reported

Rubio said he "really became convinced we were going to lose that Senate seat" if he didn't reverse his earlier decision to not seek Senate re-election as he launched White House bid that proved unsuccessful
Rubio favored to defeat developer Carlos Beruff in Aug. 30 primary, Murphy favored to beat Rep. Alan Grayson in Democratic race; Rubio described Grayson as "not well"

NV: Democrat Catherine Cortez Masto released TV ad featuring breast cancer survivor who criticizes GOP Rep. Joe Heck for voting to defund Planned Parenthood, says he "threatened to shut down the government" over the issue

Heck, physician who disagrees with group's support for abortion rights and services, says federal funds should go instead to community health centers
Ad cites Heck's vote last Sept. 18 to block federal payments to Planned Parenthood and its affiliates for year unless groups certify they won't perform abortions; Heck voted for bill, though he voted on Sept. 30 for short-term continuing resolution to keep federal government open
Cortez Masto, state's ex-Atty. Gen., and Heck are seeking to succeed Democratic Sen. Harry Reid in race nonpartisan political analysts rate as tossup

OH: Republican Sen. Rob Portman and Democratic ex-Gov. Ted Strickland have agreed to debate Oct. 14 in Youngstown, Oct. 17 in Columbus, Oct. 20 in Cleveland, according to joint statement
PA: GOP Sen. Pat Toomey wrote in Pittsburgh Post-Gazette op-ed he can't support Trans-Pacific Partnership pact because it is "not a good deal for" state

"We should dump the TPP and return to the negotiating table to get an agreement that would create jobs and economic growth here at home," Toomey wrote, citing concerns about how proposal would affect Pa.'s pharmaceutical/agricultural sectors
Democratic challenger Katie McGinty said in statement Toomey "has spent his entire career pushing bad trade deals and policies that ship Americans jobs overseas, so nobody is buying this ridiculous flip-flop"

WI: Democrat Russ Feingold's campaign released statement calling on GOP Sen. Ron Johnson to declare position on TPP in light of Toomey's announcement

Feingold, former three-term senator unseated by Johnson in 2010, has made opposition to pact key part of his campaign platform

HOUSE RACES
DEMOCRATS: Democratic Congressional Campaign Cmte raised $12m in July, figure that "signals optimism about the number of seats the party can hope to win back" in Nov., Wall Street Journal reported

Democrats need net gain of 30 seats for House control
NOTE: DCCC, National Republican Congressional Campaign Cmte required to submit detailed campaign finance reports to Federal Election Commission by Aug. 20

AZ-05: Club for Growth Action, conservative super-PAC backing tax/spending cuts, released TV ad lauding GOP state Sen. Andy Biggs as "the true conservative we need in Congress" and noting his endorsements from retiring GOP Rep. Matt Salmon and some conservative groups

Biggs running in Aug. 30 primary against former GoDaddy executive Christine Jones, former Maricopa County supervisor Don Stapley, state Rep. Justin Olson; GOP contest is critical vote in strongly Republican district

FL-02: Republican doctor Neal Dunn aligned with Trump in TV ad blasting Club for Growth as "D.C. special interest group" that is "lying about me too because, like Trump, they know I won't play their games"

Club for Growth, which clashed with Trump during GOP presidential primaries, backs lawyer Mary Thomas in Aug. 30 primary over Dunn and former federal prosecutor Ken Sukhia
Winner of GOP race favored to succeed retiring one-term Democrat Gwen Graham in northern Fla. district that absorbed more Republicans in court-ordered redistricting

NY-23: Democrat John Plumb in TV ad said he's fourth-generation western New Yorker and 22-year Navy veteran who will advocate for more spending on infrastructure to create jobs and "help western New York and the Southern Tier rise"

Plumb challenging GOP Rep. Tom Reed in Republican-leaning district that includes Jamestown, Ithaca, and Elmira

NY-24: Democrat Colleen Deacon appeared with her father in TV ad in which she said "creating good-paying jobs is personal;" Ross Deacon said he was laid off from Syracuse Ornamental Company (Syroco) when Deacon was 12 years old, received two weeks' severance pay

GOP Rep. John Katko's campaign released TV ad featuring parents of woman killed by her ex-fiance and son who died of heroin overdose; Katko, former federal prosecutor, is "willing to do whatever it takes to battle drug abuse, to battle domestic violence," the father said
Deacon, former aide to N.Y. Democratic Sen. Kirsten Gillibrand, seeking to unseat freshman Katko in Syracuse-area district that voted 57%-41% for Obama in 2012 election

WI-08: League of Conservation Voters Action Fund endorsed Democrat Tom Nelson over Republican Mike Gallagher, according to release

Nelson, executive of Outagamie County in and around Appleton, is vying with Gallagher, former campaign adviser to Wis. Gov. Scott Walker, for competitive northeastern district of retiring GOP Rep. Reid Ribble
Before it's here, it's on the Bloomberg Terminal.
LEARN MORE