Masters in Politics Podcast
Trump Media Feud to Get 'Way Worse,' New York Times Media Columnist Warns
By and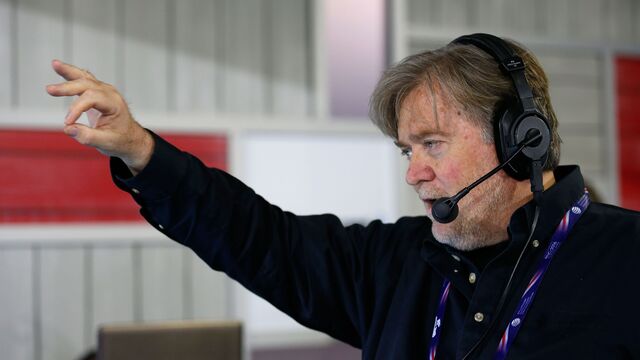 Donald Trump's hire of Breitbart media chief executive Steve Bannon is a troubling development in campaign/media relations, says New York Times media columnist Jim Rutenberg. 
"The fight with the media's going to be way worse because Breitbart was very tough on the press, more than anyone else," Rutenberg said in an interview with Bloomberg Politics' Masters in Politics podcast. "We saw it last night in Trump's speech, that law-and-order speech. Calling out the media ... it was very subtle, but there was a little twist, it was the media-political establishment he was going after, so it was almost like he was running against the press, as if the press could be ejected from office."
Rutenberg also discussed the contrasts and connections between Bannon and another Trump adviser, former Fox News chief Roger Ailes, and their respective outlets. "Breitbart, even more than a Sean Hannity on Fox News, was so much a Trump campaign arm that when a Trump campaign manager man-handled one of his reporters, [Breitbart] sided with the campaign," Rutenberg said. "At the time I was thinking well, 'Trump's just too good a story and it's good for their clicks,' but now I realized it was just about being with the campaign."
"Interestingly, one thing we should also keep in mind is that Roger Ailes and Bannon are really close, too, and they were known to have been sort of arguing over Trump when Fox News had Megyn Kelly fighting with Trump... Then you saw Fox, even before Ailes left, swing behind Trump, too. [Bannon] had a sort of gravitational pull."
You can hear the entire interview below.
Before it's here, it's on the Bloomberg Terminal.
LEARN MORE