The Stocks That Shenzhen-Hong Kong Link Investors Can Access
Bloomberg News
Mainland traders can buy some Hong Kong small-cap stocks

ETFs to be made available for trading via link, regulators say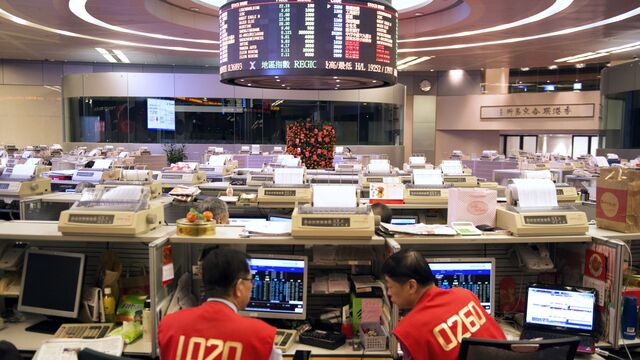 Stock investors in China and around the world will have easier access to hundreds of companies via the Shenzhen-Hong Kong link.
Institutional investors will be able to trade all dual-listed shares and most of the Shenzhen Component Index's 500 members, as well as small- and mid-cap shares with a market value of more than 6 billion yuan ($904 million). Retail investors won't have access to the ChiNext board of small firms at the beginning, according to the Securities and Futures Commission. The large number of small-caps in Shenzhen provides an additional opportunity for investors over the Shanghai-Hong Kong connect.
Global investors will gain access to some 870 Shenzhen-listed companies with a combined market value of about 7 trillion yuan via the northbound link, says Ting Gao, the Shanghai-based head of China strategy at UBS Group AG. Those firms include several high-growth technology and pharmaceutical companies in Shenzhen, which typically trade at higher valuations than Shanghai-listed firms. The ChiNext index trades at about 32 times its projected 12-month earnings, compared with a multiple of 13.4 for the Shanghai Composite and 11.9 for the Hang Seng Index.
Global investors will be able to buy 13 billion yuan of Shenzhen stocks every day via the link, the same as they can in Shanghai. Exchange-traded funds will also be available for trading under the mutual market access, and a launch date will be announced separately after the link "has been in operation for a period of time," Chinese and Hong Kong market regulators said in a joint statement Tuesday.
Global investors bought about 1.5 billion yuan of Shanghai stocks via the northbound link on Thursday, while Chinese traders purchased around 2.3 billion yuan of Hong Kong shares.
Below is a list of what global investors will be able to trade in Shenzhen in about four months, when authorities say the connect is likely to become operational:
Shenzhen Component Index members with at least 6 billion yuan in market value, totaling 478 companies as of Wednesday. The gauge includes names such as appliance maker Midea Group Co. and Ping An Bank Co.
Shenzhen Small/Mid Cap Innovation Index members, also with a capitalization threshold of 6 billion yuan. The gauge includes Guangdong Goworld Co., an electronic components maker, and hotels operator ShenZhen QuanXinHao Co.
Companies with a dual-listing in Hong Kong and Shenzhen, such as China Vanke Co., the nation's biggest developer, and telecommunications equipment maker ZTE Corp.



Southbound Stocks
Chinese investors looking for southbound stock investment opportunities will have access to large- and mid-cap stocks that were part of the Shanghai-Hong Kong link, plus be able to buy companies on the Hang Seng Composite Small Cap Index with a market value of HK$5 billion ($645 million) or more. Based on the criteria, investors can access about 115 more companies via the Shenzhen link than through the Shanghai connect, UBS's Gao said.
Here's what they get to trade:
Members of Hang Seng Composite Large Cap Index, such as China Mobile Ltd., the world's largest mobile-services company by subscribers, and energy major Cnooc Ltd., which aren't listed on the mainland
Members of the Hang Seng Composite Mid Cap Index, including logistics firm Orient Overseas International Ltd. and developer K Wah International Holdings Ltd.
Dual-listed firms in Hong Kong, many of which trade at a substantially cheaper price. The Hong Kong-listed shares of ZTE, for instance, trade at 10.6 times their 12-month forward earnings, a 29 percent discount to Shenzhen valuations
Hang Seng Composite Small Cap Index members with at least HK$5 billion in market capitalization, such as women's apparel maker Koradior Holdings Ltd., or Bank of Chongqing Co.