Casino Magnate Wynn Holds Back Support From Friend Donald Trump
by
Vegas casino vote split: Adelson for Trump, Murren for Clinton

'I yearn for a more adult discussion,' Wynn says in interview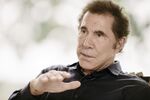 Billionaire casino operator Steve Wynn is spurning his friend and longtime business rival Donald Trump in his presidential run, choosing to stay on the sidelines instead.
"I'm a friend of Donald Trump but I have not supported either candidate in the presidency as yet -- I'm friendly with Bill Clinton, I know Hillary," Wynn said in an interview. "I'm hoping our conversation in America in this campaign gets to be more substantive, about the real issue facing us at the moment and that is a constantly increasing deficit in the government."
Trump's fellow casino operators have been mixed in deciding whether to back his run as the Republican nominee. MGM Resorts International Chief Executive Officer Jim Murren, a lifelong Republican, announced this week that he's supporting Hillary Clinton because he said Trump has alienated and criticized women, the disabled, minorities and Muslim Americans. Sheldon Adelson, who runs Las Vegas Sands Corp., has endorsed Trump, though his financial commitment has been questioned.
Wynn and Trump have clashed in the past, butting heads two decades ago over development plans in Atlantic City, New Jersey, but eventually they patched things up. Wynn attended Trump's wedding to Melania in 2005, according to the Washington Post, and Trump was there for part of Wynn's wedding festivities in 2011, the Las Vegas Weekly reported at the time.
While he has often criticized President Barack Obama, Wynn has been noncommittal throughout the run-up to this year's election. In a May 2015 interview with Las Vegas broadcaster KNPB, Wynn said he recently had a "charming" dinner with Hillary and Bill Clinton. "There's a chance I'll support anybody and there are wonderful candidates from both parties," he said then.
In his interview with Bloomberg News this week, Wynn said he'd like to see candidates more focused on reducing regulation and creating more jobs in the private sector.
"We have both parties promising this and promising that and we'll give you this free and we'll give you that free. And nobody has described how to pay for it except we'll get the rich guys and the corporations to pay their fair share," he said. "I yearn for a more adult discussion of these things and when I hear it I'll cast my vote, and support people like that. In the absence I keep my hands in my pocket, and my wallet too."
Before it's here, it's on the Bloomberg Terminal.
LEARN MORE