Singtel to Pay $1.8 Billion for Stakes in Intouch, Bharti
By and
Cash deal funded by short-term debt, new share sale to Temasek

Intouch share price about 1.9% below Wednesday's closing price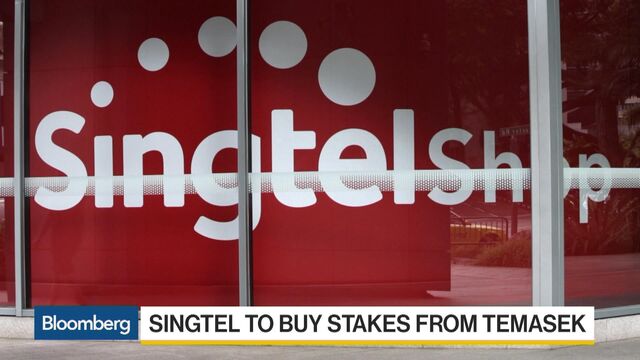 Singapore Telecommunications Ltd. agreed to pay S$2.47 billion ($1.8 billion) for stakes in Thailand's Intouch Holdings Pcl and India's Bharti Telecom Ltd. to broaden access to fast-growing wireless markets in Asia and Africa.
Singtel will pay 60.83 baht per share for a 21 percent holding in Intouch and 235.62 rupees a share for 7.39 percent of Bharti Telecom in cash to Temasek Holdings Pte, Singapore's state-owned investment firm, the carrier said in a statement Thursday. The transaction will be funded through short-term debt and a S$1.605 billion placement of shares to Temasek, according to the announcement.
The deal deepens Singtel's footholds in Thailand and India, where the shift in users to smartphones is driving up demand for data services. Intouch is the biggest shareholder in Advanced Info Service Pcl, Thailand's largest wireless carrier, while Bharti is the largest stake owner of Bharti Airtel Ltd., India's No. 1 mobile phone operator.
"The deal makes sense," Nicholas Teo, a strategist at KGI Fraser Securities said by phone. "Their growing footprint in Asia makes them an attractive regional mobile player. This brings economies of scale that allows them to offer better pricing for customers roaming around the region."
For a story on political tensions that thwarted a previous sale, click here.
The transaction won't result in a big shift in control of the market because Singtel is buying the stakes from its majority owner, Temasek, while raising the money to pay for it mostly from the owner. The placement of new shares with Temasek will raise its stake in Singtel to about 52.27 percent from about 51 percent.
Advanced Info and Bharti Airtel Ltd., the wireless affiliate, have operations in 18 countries across South Asia and Africa and a combined customer base of 380 million, Singtel said in the statement. The Singaporean carrier began investing in those businesses in 1999, it said.
"We have confidence in the long-term performance of India and Thailand," Chua Sock Koong, Singtel chief executive officer, said at a media briefing in Singapore.
Thaksin Legacy


The Intouch acquisition had been previously discussed in 2014, when political instability in Thailand ultimately doomed a deal.
Intouch changed its name from Shin Corp. in 2011 as the group sought to distance itself from the family of founder and former Thai Prime Minister Thaksin Shinawatra, who was ousted in a 2006 military coup. Thaksin's sister Yingluck Shinawatra, the prime minister when her government was toppled in a coup in 2014, was once president of the mobile-phone unit.
A Temasek-led group bought 49.6 percent of Shin in 2006 from then-premier Thaksin and later raised its stake to more than 96 percent, sparking protests and a boycott of Shin products in Thailand. Thaksin's opponents at the time accused him of selling state assets to a foreign government and avoiding paying tax on the windfall.
"Intouch is well within its foreign shareholding limit, so it is a case of a foreign investor selling foreign shares to another foreign investor," Chua told reporters Thursday. Regulatory approvals will be "fairly routine," she said.
The deal announced Thursday, subject to shareholder and regulatory approvals, is expected to be completed by December, according to the statement.
The agreement offers about 1.9 percent less than Wednesday's closing price for Intouch shares. Bharti Telecom is closely held. The share placement to Temasek is set at about 1.2 percent below Wednesday's closing price.
"We rebalance our portfolio from time to time," Ravi Lambah, head of telecommunications, media and technology for Temasek, said Thursday in a statement on the company's website. "We are pleased to have the opportunity to further invest in Singtel."
Singtel shares have risen 15 percent this year as of Wednesday's close, compared with the 1.4 percent drop in the Singapore benchmark Straits Times Index.