Siberian Mining Hires New Mineral Expert After Hong Kong Scandal
by
Earlier report questioned after author Tso was investigated

Tso wrote mining reports for at least 15 listed companies
Siberian Mining Group Co., one of more than a dozen Hong Kong companies whose valuation and mineral deposit reports were questioned by a High Court judge, hired a new expert to review its coal deposit in Russia.
SMG said in a filing Tuesday that its main asset, the Lapichevskaya mine in the remote Kemerovo region, had been reappraised by a "reputable technical expert." The review comes four months after it argued that its original report, used to support a $443 million convertible note, was valid even after the author, Herman Tso Chi-ming, tried to withdraw it. Tso was expelled from the Australasian Institute of Mining and Metallurgy in June after an investigation by the industry body questioned his academic qualifications.
In a case brought by an SMG shareholder against eight companies that worked with Tso, Deputy High Court Judge Conrad Seagroatt said in June that any business that had used Tso "would be negligent" if it ignored the evidence that he had been "discredited." Simon Mak, chief executive officer at Ascent Partners, an asset valuation and advisory firm, said the companies linked with Tso should redo their reports.
"People buy something for $15 million and value it at $50 million," Mak said Tuesday, speaking generally about the industry. "If the stock exchange or regulator takes the sideline, the public will start to lose their trust in the market."
Mak said he was concerned about abuse in the industry because the regulations are weak and valuations can be highly subjective.
Resource reports are required when mining companies need to raise capital. Investors rely on them to indicate the value of the minerals that could be extracted. SMG is discussing the convertible note with its auditor, the filing said.
Crucial Reports
Tso wrote reserve and valuation reports for at least 15 Hong Kong-listed companies, according to a Bloomberg News analysis of his company's website and exchange filings.
The latest report by SMG was prepared last week and concluded that the Russian mine had "probable coal reserves" of 14.5 million tons, while Tso's 2013 report identified 14.9 million tons in probable reserves, the filing said. The document didn't disclose who carried out the new report. SMG did not reply to an e-mail seeking comment.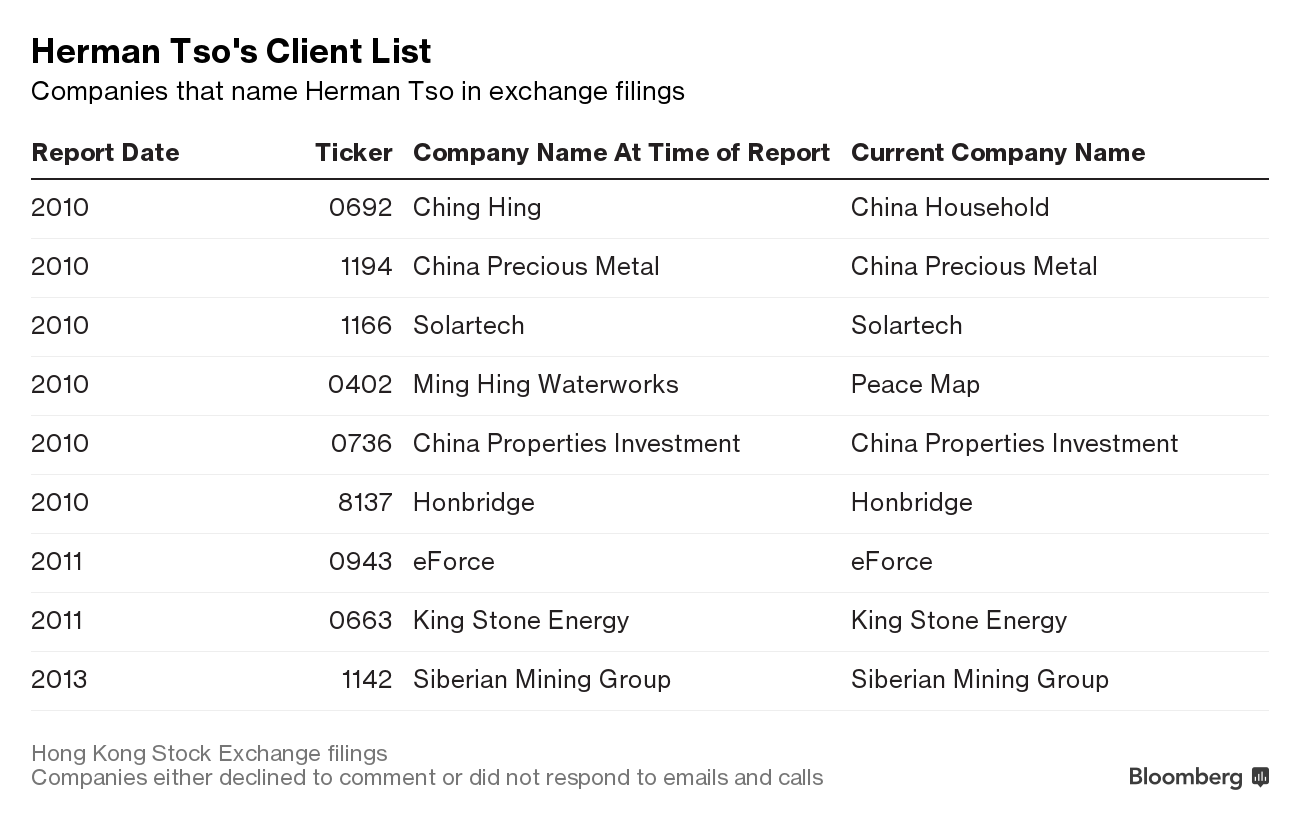 Mining firm Honbridge Holdings Ltd. employed Tso in 2010 to write a valuation report on a South American mine and was named as a defendant in the High Court case. Following Seagroatt's decision the company said in a filing it will seek legal advice over whether to establish an independent committee to review Tso's valuation report and any impact on its financial statements. Honbridge told Bloomberg News it will not comment as legal action is ongoing.
Other firms that used Tso did not reply to e-mails sent on Tuesday seeking comment.
SMG is linked to a separate trial in South Korea where businessman Kim Young Jun is accused of taking money from firms he controlled and routing the funds to the Hong Kong miner, where he built a 33 percent stake through his son and a female friend, South Korean prosecutors said.
Prosecutors accused Kim of wanting to gain control of SMG in order to issue the convertible bonds, an official familiar with the case said.
Kim's lawyer was unavailable for comment. Calls to Kim's phone were unanswered. The son and female friend have not been accused of wrongdoing.
Before it's here, it's on the Bloomberg Terminal.
LEARN MORE