markets
Norway Wealth Fund Cuts U.K. Real Estate Value After Brexit
By and
Fund returned 1.3% in second quarter on bond, stock gains

Government raised withdrawals to 24 billion kroner in period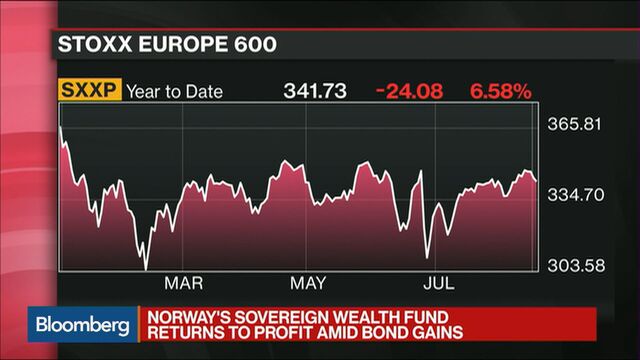 Norway's $890 billion sovereign wealth fund, the world's biggest, took the step of independently cutting the value of its massive U.K. real estate portfolio by 5 percent after Britain voted to leave the European Union.
"It's an extraordinary measure," Deputy Chief Executive Officer Trond Grande said at a press conference in Oslo as he presented second-quarter results. Given a pick up in the listed real-estate market in the third quarter "we at least have no indication that it should be adjusted further down," he said.
The fund lost 1.6 percent in the second quarter on its 168 billion-krone ($20.4 billion) unlisted real estate holdings, the investor said Wednesday. The fund owns larges swathes of real estate in the U.K., including Regent Street properties in a partnership with the Crown Estate. In July, after the Brexit vote, it also bought an office and retail property on London's Oxford Street.

The writedown of the fund's U.K. real-estate portfolio represents a value of 2.3 billion kroner, spokeswoman Line Aaltvedt said in an e-mail.
Overall, the fund returned to gains in the second quarter even as it warned low interest rates will put pressure on its ability to generate returns amid rising withdrawals from the government. The Government Pension Fund Global gained 94 billion kroner, or 1.3 percent, after losing 0.6 percent in the first quarter. Its stock portfolio rose 0.7 percent and its bond holdings gained 2.5 percent.
The fixed-income investments delivered "gains due to falling interest rates," Grande said. "In the long term, however, lower interest rates have negative implications for future returns on the fixed-income portfolio."
The fund, which largely follows global indexes, has been whipsawed over the past year by market turmoil stirred up by concerns over growth in China, a rout in commodities and most recently, the U.K. vote to leave the European Union. The Norwegian government is at the same time making its first ever withdrawals to cover budget holes caused by the plunge in crude prices over the past two years.
Government withdrawals from the fund totaled 24 billion kroner in the second quarter, up from 21 billion kroner in the first quarter.

The fund, which received its first capital transfer in 1996 and gets investment guidelines from the government, held 59.6 percent in stocks, 37.4 percent in bonds and 3.1 percent in real estate at the end of the quarter. It's mandated to hold 60 percent, 35 percent and 5 percent in those asset classes, respectively.
The return in the quarter trailed the benchmark set by the Finance Ministry by 0.1 percentage point.
The biggest stock investments were Nestle, Royal Dutch Shell and Apple. Its biggest bond investment were U.S., Japan and Germany.
(
Updates with value of writedown in fourth paragraph.
)
Before it's here, it's on the Bloomberg Terminal.
LEARN MORE