business
Merkel Shifts to Law-and-Order Stance in Appeal to Regain Voters
Birgit Jennen and Patrick Donahue
Chancellor cites crime, Islamist terrorism as key challenges

Approval rating in slump as eastern state election looms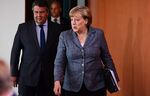 Chancellor Angela Merkel said fighting crime and Islamist terror will be key challenges for years, adopting a law-and-order stance after attacks in Germany eroded her approval rating.
"We need more police," Merkel said at a campaign rally for her Christian Democratic Union on Thursday in her electoral district in the northeastern region of Mecklenburg-Western Pomerania, where voters elect a new state assembly on Sept. 4. "We will need more video surveillance of public spaces."
Public safety has surged as a voter concern after four attacks in Germany during a week in July, including two by asylum seekers who had pledged allegiance to Islamic State. That's put Merkel on the defensive for declining to slam the door on refugees entering Germany, though the influx has slowed to a fraction of last year's post-World War II record.
The chancellor, who's been in power for almost 11 years, saw her approval rating slump by 12 percentage points to 47 percent in an Infratest poll published Aug. 5. Polls in Mecklenburg-Western Pomerania suggest the Social Democrats and Merkel's CDU may squeak by and win enough votes to renew their coalition in the state, while about one in five voters say they'll back the anti-immigration Alternative for Germany.
"Security -- social security and job security, but also security from the dangers of crime and Islamist terror -- that is the big task facing us," Merkel told the crowd in the Baltic coastal town of Ribnitz-Damgarten. "I think I'm not making any wrong predictions when I say we'll have to deal with this also in the years ahead."
At the same time, Merkel is seeking to shield refugees from blanket suspicion as she campaigns in the state. She's scheduled to speak about agriculture later Thursday in a town near the Polish border.
On Wednesday, Merkel said at a party event in Mecklenburg-Western Pomerania it's "apparent" that terror groups are seeking to recruit asylum seekers in Germany. She also cited Islamic State operatives involved in the Paris attacks in November who entered Europe with the wave of migrants from the Middle East.
"But the phenomenon of Islamist terror, or of ISIS, isn't one that arrived with the refugees," Merkel said in the town of Neustrelitz, using one of the acronyms for Islamic State. "It's one that we have and have had."
Before it's here, it's on the Bloomberg Terminal.
LEARN MORE