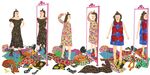 Opening the wedding invitation, Olivia Bitetti was struck by an unfamiliar phrase, "Dress Code: Festive." The only direction it provided was to suggest flats and cowboy boots, because the nuptials would be on a farm in Boone, N.C., over Labor Day weekend. What was Bitetti supposed to wear above her ankles? She Googled. She texted friends. She even consulted with one who works in the luxury invite industry. The consensus: "Bright colors, fun prints, flowers," says the 26-year-old copywriter in New York. "I mostly stick with neutrals and classic shapes. But this will be fun for an evening event."
Fun, yes, but fraught. "Festive" attire once referred clearly to dressing for a holiday party. Think sequined gowns or dresses, bows in rich greens, reds, and metallics, the occasional fur. Men wore tuxes. But recently, festive dress has been co-opted by brides and grooms—who all have their own idea of how it's defined, leading guests to Google, text, consult with industry insiders, and say a collective "Huh?" "Some people see 'festive' and they have no idea what that means," says New York wedding planner Leah Weinberg.
It's not just guests who seem confused. There's no agreement, even among the people who help couples have the greatest day of their lives. Weinberg herself says: "I take it as more casual, but still vibrant, bright, colorful, sparkles, sequins. Some 'festive' might mean sparkly cocktail attire, more on the higher end. It really depends. There are a lot of factors—what the venue is, knowing the couple, their personal style." Got that? All clear?
Blame millennials for making this so complicated. Bride magazine fashion director Elle Strauss says their love of social media, such as image-sharing site Pinterest, has bolstered the trend. Pinterest provides an outlet for board after board of festive images, even though outfits range from hippie chic to Lilly Pulitzer proper. "They want to get away from normal traditions," says Lakewood, Calif., wedding planner Marni Farmer. She adds: "Weddings are becoming guest-centric, vs. bride-and-groom-centric, which contributes to a festive vibe. They want to incorporate memorable activities and elements that guests will think are cool," like food trucks, selfie stations, s'mores over a fire pit, and décor projects. And guests should look the part.
If there's any agreement, it's that a wedding-goer's guiding aesthetic is "bold." For women, Strauss likes outfits that are "a little more dramatic than what you'd normally wear" and include fur, velvet, even lace. She calls it icing. The color palette extends to bright pink, mustard yellow, and velvety burgundy.
For guys—for once—it's less simple. Peri Edelstein, 36, a consultant in Manhattan, says she's been invited to two weddings this year that called for festive attire. At the first, the women stuck to colorful ensembles—she wore a black, off-the-shoulder peasant dress with pink and red flowers—but since it was less clear what festive means for men, some used it as an excuse to dress down. "It was a mix of jackets and no jackets. I didn't see any colorful or printed suits," Edelstein says.
Brides and grooms can alleviate confusion. They might offer more clarity on their wedding websites, or spread details by word-of-mouth, relying on groomsmen and bridesmaids to get the message across. But even if couples want everyone to wear flats or cowboy boots, it might not happen. One person's festive is another's fail. Nothing against her hosts' footwear suggestions for Labor Day weekend, but Bitetti plans to attend in a floral dress—and wedges.


Before it's here, it's on the Bloomberg Terminal.
LEARN MORE