Five Things You Need to Know to Start Your Day
Get caught up on what's moving markets.
by and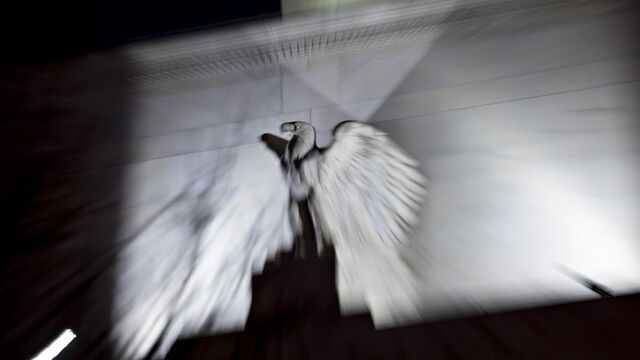 Want to receive this post in your inbox every morning? Sign up here.
There are hirings at Credit Suisse Group AG, on the Trump campaign, and in post-Brexit Britain, but the real attention is on the labor-market subtext of the FOMC minutes to be released this afternoon.
Fed minutes
Anticipation is building for the July minutes of the Federal Open Market Committee meeting, with hawkish comments from New York Federal Reserve Bank President William Dudley on Tuesday helping the dollar snap its losing streak. He said a September rate hike is still possible — even if markets aren't convinced that it's probable — sending the futures-implied odds of a rate hike in 2016 above 50 percent for the first time since the aftermath of the U.K. referendum. Even so, while markets do their best to parse inputs into Fed decision-making, the ground is shifting beneath their feet with ever more big names throwing shade at the efficacy of monetary-policy levers. See Paul Krugman tackle the subject in our most recent episode of What'd You Miss.
Funds shed jobs and investors
Money managers aren't respecting the August lull, with changes afoot at a swath of different funds. While Credit Suisse is hiring, Paul Tudor Jones is said to be firing, after investors withdrew close to $2 billion from Tudor Investment Corp. this year. His is not the only hedge fund experiencing woes — new data from Eurekahedge showed investors pulled $5.7 billion across the industry in July, although this interesting paper debunks the prevailing narrative on lackluster hedge-fund returns. It's not confined to funds: Cisco Systems Inc. is also said to be cutting 14,000 jobs. Turning a more macro lens onto labor markets, data in the U.K. showed jobless claims unexpectedly declined. 
Softer crude
Oil prices slid after weekly data highlighted expanding U.S. gasoline stockpiles, renewing concerns of a global oil glut, with Brent futures down by as much as 1.2 percent by 5:47 a.m. in New York. Comments from Saudi Arabia last week that it was prepared to stabilize markets had helped to put crude prices on a winning tear after they'd entered a bear market in late July. The renewed uncertainty in crude prices in recent months has slammed the brakes on asset sales in both Kazakhstan and Russia, which is delaying what would have been its biggest such deal in a decade, a $5 billion stake in Bashneft PJSC.
China flows
China's bid to open its financial borders for foreign investors took another step forward after analysts said a program to allow market participants in Hong Kong to trade stocks on the mainland Shenzhen exchange would boost its chances of getting domestic equities included in MSCI Inc.'s main benchmarks. The Shenzhen Composite Index added 0.3 percent by the market close. The exchange link, expected to commence in four months, will lift some restrictions on inbound and outbound flows. Still, efforts to manage the country's capital account were underscored after Chinese authorities announced that so far this year they've arrested 450 suspects in a crackdown on using offshore companies and black-market lenders to transfer money illegally. 
Trump shifts gears
In the U.S. election, Trump ups his game — or at least his game plan — by replacing key members of his campaign staff. Breitbart News chair and one-time Goldman Sachs Group Inc. banker Stephen K. Bannon becomes the chief executive of the Republican nominee's presidential machine. (Bannon was profiled by Bloomberg Businessweek last year.) Elsewhere in U.S. political news, there are signs that marijuana might lift Hillary Clinton's poll showing, and that she'd pay half as much tax under a President Trump. 
What we've been reading 
This is what's caught our eye over the last 24 hours.
Before it's here, it's on the Bloomberg Terminal.
LEARN MORE