Clinton Cites Team USA Triumphs to Counter Trump Narrative of Declining America
The Democratic presidential nominee has woven in references to the U.S. team into her stump speech.
By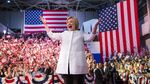 The U.S. Olympic team's success in Rio isn't about Democrats or Republicans. But it's spilling into the American presidential election, giving Hillary Clinton an easy counterargument to Donald Trump's case that America doesn't "win anymore" under President Barack Obama and the Democrats.