Clinton Cites Team USA Triumphs to Counter Trump Narrative of Declining America
The Democratic presidential nominee has woven in references to the U.S. team into her stump speech.
By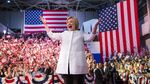 The U.S. Olympic team's success in Rio isn't about Democrats or Republicans. But it's spilling into the American presidential election, giving Hillary Clinton an easy counterargument to Donald Trump's case that America doesn't "win anymore" under President Barack Obama and the Democrats.
With the U.S. leading the world in gold and overall medals, and American families riveted to their TV sets watching the likes of gymnast Simone Biles and swimmer Michael Phelps, Clinton on Tuesday asked voters at a rally in Philadelphia to connect the dots. "Have any of you been watching the Olympics?"  the Democratic nominee said, declaring herself a "big" fan. "Team USA is showing the world what this country stands for."
"Sometimes when I hear Trump talking about how we should all be so afraid all the time, and then I find a few minutes to watch the Olympics, I think, 'My goodness!'" Clinton said. "You know, when you go out and compete, not everybody can win but you gotta do your best."
"Can you imagine, you know, Michael Phelps or Simone Biles or all the other great American athletes" in their locker rooms, saying, " 'Oh no, I'm too afraid to go out and compete?'" Clinton asked the crowd rhetorically. She answered her own question with an emphatic "No!"
Trump has not been talking about the U.S. team's success on the stump. On Aug. 5, he marked the start of the games on Twitter by wishing the U.S. team "Good luck." 
Victor Cha, director of Asian studies for the Center for Strategic and International Studies in Washington, says three factors are helping Clinton make her case. 
"There is no full Russian team there so that certainly affects the US performance. It is interesting the U.S. is doing so much better than China. The U.S. is putting more into the Olympics both nationally and locally in terms of attention," Cha said. "It is pretty fertile ground on which she can build an argument America is not as bad off as her opponent says it is."
Still, Cha said Clinton is right not to lean too hard on the analogy.
"Especially with the Olympics, people don't react well to the use of sport for political purposes so it's smart to allow voters to draw the connection," Cha said. 
A Bloomberg National Poll this month found 36 percent of likely voters were more focused on the Olympics than the presidential campaign. Democrats and independents were more likely to feel that way than Republicans. That percentage swelled to 40 percent or higher for likely voters younger than 55.
All of the attention on the Olympics may end up conflicting with Trump's portrayal of America's standing in the world. 
"The smashing success of the U.S. Olympic team in Rio is a testament to their resilience," said Richard Lapchick, an activist for racial equality in sports who directs the National Consortium for Academics and Sports, and chairman of the DeVos Sport Business Management Program at the University of Central Florida.
Lapchick added that the U.S. record at the games "stands in stark contrast to Trump's position of the decline of the U.S." and "these athletes are strong, not weak, just like the nation itself."
Globally there is "a pretty long history of politicians using the Olympics to kind of incite both voter energy and, more generally, political ideologies," said Joshua Newman, a sports sociologist who directs the Center for Sport, Health and Equitable Development at Florida State University. He recalled Adolf Hitler's use of the 1936 games in Berlin to promote Nazi propaganda, as well as Ronald Reagan's correlation of U.S. Olympic success and of that against the Soviet Union during the Cold War.
"Sports has the ability to galvanize a populace in a way that even war doesn't," Newman said. "It's a powerful and evocative cultural moment where you can associate certain political messages to the state of the nation as it's being represented in the Olympics, and I think that's what she's doing here. Hillary Clinton is trying to seize on that." Newman added. 
Though Obama and his wife have cheered the U.S. team on Twitter, the president took some political heat for his decision not to attend in person. He sent Secretary of State John Kerry to Rio; Obama tapped First Lady Michelle Obama to lead the U.S. delegation to the Summer Games four years ago. Obama's 2012 rival Mitt Romney built his own political comeback in no small part on his work leading the organizing committee for the 2002 Winter Olympics. Teddy Roosevelt was the first U.S. president to host an Olympics, in 1904.
—With assistance from Jennifer Jacobs and Kevin Cirilli
Before it's here, it's on the Bloomberg Terminal.
LEARN MORE