markets
Hong Kong Small Caps Rise, Brokerages Fall on Shenzhen Link News
By
There's profit-taking in main beneficiaries, CMB analyst says

Smaller companies to be include in new trading connect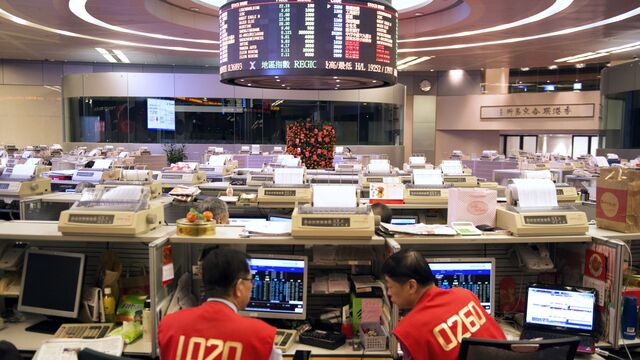 Hong Kong small-cap shares were the brightest part of China's stock markets after a long-anticipated exchange trading link between the city and Shenzhen was unveiled, while brokerages tumbled.
The Hang Seng Composite Small Cap Index rose 0.5 percent to its highest close in almost four months. The link will include smaller stocks listed in Hong Kong with a market value of more than HK$5 billion ($645 million), according to the Securities and Futures Commission. Brokerages led declines in the city after rallying in the run-up to the announcement. Cathay Pacific Airways Ltd. slumped the most in a year after its profit plunged. The Shenzhen Composite Index added 0.3 percent.
The connect program may start in about four months and won't be subject to overall caps on net purchases, though daily limits will apply, according to details revealed late Tuesday. Stocks in Hong Kong and the mainland climbed in recent days in anticipation of the link's announcement, with Shenzhen's benchmark gauge surging 2.5 percent on Monday. Investors are cashing out of the best performers after the news, according to CMB International Securities Ltd.

"Main beneficiary stocks, such as brokerages and HKEx, are seeing profit-taking, which makes sense because the connect itself and details weren't a surprise," said Daniel So, strategist at CMB International Securities in Hong Kong. "The rally in small-cap stocks before the announcement hasn't been across the board. So there is some room for speculation for certain stocks."
Small Caps
Premier Li Keqiang announced the State Council's approval of the trading link on Tuesday. Officials have been reviewing plans to expand the exchange link to Shenzhen after starting the stock connect program between Shanghai and Hong Kong in November 2014. Overseas investors can also trade in China, the world's second-largest equity market, through quota-regulated qualified foreign investor programs. The opening of the second channel is part of China's efforts to internationalize its capital markets and increase its global influence to something more in line with the heft of the nation's economy.
Huayi Tencent Entertainment Co. climbed 3.3 percent to pace gains on Hong Kong's small-cap index. The stock is still down 55 percent this year. GCL New Energy Holdings Ltd. capped its biggest advance since September. G-Resources Group Ltd. surged 7.5 percent from a record-low.
Selling Pressure
Cathay Pacific, Asia's biggest international airline, sank 7.3 percent after its first-half earnings fell, missing estimates, on losses from jet-fuel hedges and a decline in passenger yields.
Citic Securities Co., which rallied 8.1 percent last week, declined 4.3 percent in Hong Kong, while Guotai Junan International Holdings Ltd. slumped 9.5 percent. Hong Kong Exchanges & Clearing Ltd. dropped 4.7 percent after closing on Tuesday at an almost four-month high.
"Related stocks which were overbought would have selling pressure," said Alex Wong, who helps oversee about $100 million at Ample Capital Ltd. in Hong Kong. "You wouldn't buy something and wait for four months for another investor to come and buy from you."
Foreigners have used about half their 300 billion yuan ($45 billion) total quota for buying Shanghai shares since the program began. Chinese traders have shown more appetite for investing in Hong Kong stocks, with less than 20 percent of the 250 billion yuan quota left unfilled. A cap on overall purchases will also be removed for the existing Shanghai equivalent, while daily limits on net buying will still be imposed on both trading programs.
Once the new link starts, overseas investors will have access to any stock in the Shenzhen Stock Exchange Component Index and Shenzhen Stock Exchange Small/Mid Cap Innovation Index that has a market value of more than 6 billion yuan, according to Hong Kong's Securities and Futures Commission. Dual-listed shares will also be available, while stocks on Shenzhen's ChiNext small-cap gauge will be limited to institutional investors at the "initial stage" of the link, the SFC said.
Before it's here, it's on the Bloomberg Terminal.
LEARN MORE