Bond Vigilantes Win Victories Opposing China Debt-Equity Fix
Bloomberg News
Bondholders win early victories as Premier Li's vision opposed

Swap scheme not a success 'yet' as not market driven: Moody's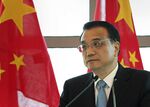 Chinese bondholders are joining lenders in pushing back against Premier Li Keqiang's plan to swap bad debts into equity stakes -- and winning some early victories.
Regional authorities in Liaoning province had been lobbying the central government to let defaulter Dongbei Special Steel Group Co. swap 70 percent of its financial debt into equity, people familiar with the matter said in July. Faced with a pushback from creditors, the firm said this month it won't exchange its bonds into equity unilaterally. Zoomlion Heavy Industry Science & Technology Co. and Ansteel Group Corp. made similar retreats after creditor meetings. All three are state-owned.
Resistance from bondholders could be a challenge as Premier Li seeks a trial for his plan to cut corporate debt, which more than doubled in the past five years to 111.7 trillion yuan ($16.8 trillion) as at the end of 2015. China Construction Bank Corp. Chairman Wang Hongzhang said in March that he wouldn't want to see a plan that simply converted "bad debt into bad equity" and global ratings companies said support from domestic finance firms is crucial.
"The debt-equity swap hasn't been of much success in restructuring distressed companies yet because again this is not a market-driven move," said Ivan Chung, head of Greater China credit research at Moody's Investors Service in Hong Kong. "Creditors could even be worse off because the swap would just defer the defaults."

While China's investors have yet to play the classical role of vigilantes, who dump bonds and push governments to act with greater discipline, they are fighting back against attempts to wipe out public sector debt and clear the deck for more state-directed stimulus. 
In the last major debt cleanup in 1999, there was government support as taxpayers funded four special asset-management firms to buy 1.4 trillion yuan of soured debt from banks at face value. That protected creditors from losses. About 30 percent of those bad loans were swapped into equity as directed by the government.
The latest draft of China's debt-to-equity plan, which proposes trials instead of full implementation, has been submitted to the cabinet for approval, China Business Journal reported on Monday, citing unidentified experts. Two calls to the State Council's press office went unanswered.
"For us bondholders, it's a pain that a claim that would have typically been paid back in three to five years now has an indefinite maturity," said Wu Sijie, a senior bond trader in Shanghai at China Merchants Bank Co., the nation's fifth biggest bank by market value. "It will be hard to assess the value of the equity converted from debt."
Zoomlion Heavy said in an Aug. 3 filing it has agreed not to convert debt to equity and will use all means to repay 9 billion yuan of notes due 2019. Ansteel and Sichuan Coal Industry Group LLC both said in June they have agreed to similar arrangements. Mizuho Securities Asia Ltd. sees risks in state-owned enterprises unilaterally proposing such swaps.
"Thousands of SOEs may follow suit, which would constitute a threat to stability of the financial system," said Fan Lei, an economist at the brokerage. "Many would use the swaps as a way to dodge debt obligations and count on taxpayers or banks to take over their debt."
While the total principal of defaulted public notes has surged to 22.5 billion yuan since the first failure in 2014, that's still a fraction of the 20 trillion yuan in outstanding bonds. So far there has been either full repayment or delays and diversions as regulators work on developing a more transparent restructuring process.
"Without reasonable corporate operation and debt repayment plans, it would be very difficult for debtors to accept debt-to-equity swaps," said Zhou Hao, an economist at Commerzbank AG in Singapore. "It's impossible to have widespread swaps nationwide."
Read: All or Nothing in China Bond Recoveries as Bankruptcy Murky
The China Business Journal report said the plan isn't designed to save zombie companies and the cabinet may tailor policies on swaps for different situations.
"How to persuade non-banking bondholders to accept the debt-equity swap plan would be one of the problems the government needs to address," said Wang Ying, senior director at Fitch Ratings in Shanghai.