Casper Enlists Puppies in the Mattress Wars
The bed-in-a-box company is betting on dog beds to sell mattresses.
By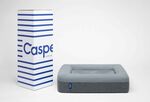 The bed-in-a-box business, having won over urban millennials and tech-savvy baby boomers, has a new target demographic: your dog.
Wednesday morning, Casper—an e-commerce startup that has been smooshing, boxing, and shipping foam mattresses since 2014—started selling a version of its product for dogs. The canine Caspers come in three sizes and cost from $125 to $225.
Casper Chief Executive Officer Philip Krim said the company spent almost a year watching dogs sleep and cranking out 110 prototypes before settling on its new mattress. "Test pups have loved the product," he said. "They feel like they're burrowing into it."
Maybe so, but the discernment of the average dog is debatable. Woodrow, my 80-pound Labrador retriever, would sleep in the middle of a Chinatown intersection. He is just as likely to sprawl out over a few errant shoes as he is to curl up on his own (fairly expensive) dog bed.

Of course, Woodrow isn't the play for Casper. I am, as are U.S. consumers like me, who collectively fork out more than $60 billion a year on pet paraphernalia. Our affection is boundless, our time less so. The guilt is manifest in all manner of toys and treats. Our pet spending, of late, handily outpaces inflation.
"The market is huge," Krim said. "From the day we launched, people would unbox the mattress and then post a picture of their dog jumping on the bed."
Casper is onto something there; nearly half of dog owners let their pet sleep in their bed. In the U.S., that equates to 22 million softies who might be inclined to splurge on a mattress for their pooch just like their own. (Dogs that aren't happy, of course, can send it back for a full refund within 100 days.)
Krim said Casper saw little competition in selling high-end dog beds. About 11 percent of dog owners are in the market for a bed for their critter, according to the American Pet Products Association—yet they spend, on average, just $42 on each one.
What's more, playing the dog card could help Casper sell more mattresses to humans. Dogs, quite simply, sell stuff. They are literally warm, fuzzy things that create emotional bonds with consumers. Just ask the creative teams at Budweiser or Subaru, which essentially crafted massive marketing campaigns around dogs. Or look at contemporary ads for private jet charters. Nothing says "I've arrived" like skipping airport security with your best friend.
"It's a very emotional thing," said Rebecca Armstrong, principal and managing director of North, an ad agency in Portland. "A copy editor I know used to say, 'Pets are people, too.' That is literally how most people view the animals in their lives now."
Casper says its strategy is less calculated. It simply wants to be to sleep what Apple is to personal technology. The company added pillows and blankets to its product line late last year and has additional announcements in the works. "If it touches sleep, we're talking about it," Krim said.
At the end of the day, a mattress in a box is a commodity product. Sure, each brand—Casper, Leesa, Tuft & Needle, Yogabed, and so forth—will say its version is better. But there's a reason there are so many startups in the space, and it's notable that each, for the most part, makes just one kind of mattress in a range of sizes.

With all things being roughly equal on price and product, the winner in the bed-in-a-box game will be the one with the best brand. Casper has gathered some $71 million in two rounds of venture capital fundraising—including investments from such celebrities as Leonardo DiCaprio and Adam Levine, a pile of cash it has used on an extended media blitz, and a string of publicity stunts. It has even bankrolled VanWinkles.com, a website dedicated to cranking out content about sleep. (A recent post detailed how to use game theory to convince a toddler to go to bed.)
As a result, Casper said it is on track to garner slightly more than $200 million in revenue this year. "We're kind of pulling away from the pack," Krim said.
It may be a while before a true winner comes to the fore, however. Leesa raised $9 million last summer. Tuft & Needle, which has steered clear of venture funding, has said it expects sales to top $125 million this year. And Helix Sleep, barely a year old, is tweaking the model by offering to drop-ship foam mattresses customized to individual preferences entered online.
Bring on the puppies.
Before it's here, it's on the Bloomberg Terminal.
LEARN MORE