Brexit Bulletin: Pension Pressure Puts Investors on Edge
Investors join workers in worrying about Brexit as Edinburgh comedians see the funny side.
By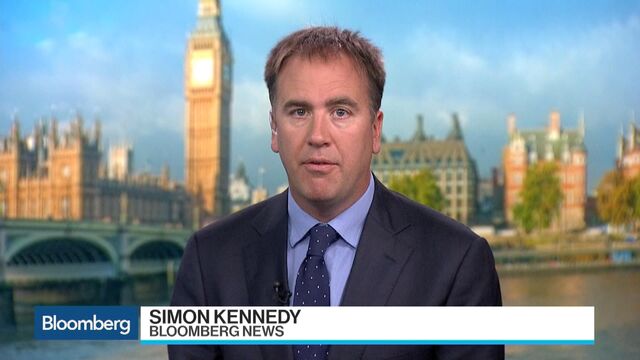 Sign up to receive the Brexit Bulletin in your inbox.
It's not just workers fretting about funding gaps in U.K. companies' pension plans. In the aftermath of the Brexit vote, investors are getting worried as well.
Pension deficits have swelled since the June 23 referendum as the Bank of England's monetary stimulus forced down government bond yields. That's reduced the return on fund investments, Bloomberg's Charlotte Ryan reports, adding to pressure on companies including telecommunications provider BT Group, grocer Tesco and military contractor BAE Systems.
Companies may now need to reduce dividend payments to raise pension contributions and close funding gaps. That means investors, who have been insulated from the U.K.'s pension crisis, could feel the effects.
"There is no doubt that shareholders of companies with major pension deficits will be concerned," said Raj Mody, who heads PricewaterhouseCoopers' pension consulting group. "It's happening to pension schemes but will feel like it's happening to the whole company."

'Glimmer of Hope' 
The U.K labor market showed continued resilience after the Brexit referendum with the first official numbers since then showing jobless claims unexpectedly fell in July and unemployment held at 4.9 percent in the second quarter. 

"If fears of the pre-Brexit jitters proved unfounded, maybe the post referendum doom and gloom may equally prove to have been overcooked," said Alan Clarke, an economist at Scotiabank. The data "provide a glimmer of hope." 

The Bank of England nevertheless forecasts unemployment will rise to 5.5 percent at the end of next year.

Canada Plus?
Robert Peston, the political editor of ITV News, reported that Britain will seek discretionary control over immigration and lawmaking and reject compulsory contributions to the EU Budget.

That leaves him predicting a 'Canada Plus' model in which the U.K. wins a trade pact similar to Canada's, yet with provisions for the British services sector bolted on. 
Sandro Gozi, Italy's junior minister for European affairs, told the Financial Times any delay in Brexit "should not lead to immobility" on EU integration.
On the Markets
Norway's $890 billion sovereign wealth fund, the world's biggest, took the step of independently cutting the value of its massive U.K. real estate portfolio after the Brexit vote, it said today. 
Wienerberger, the world's biggest maker of bricks, based in Austria, said it cut production of clay products in the U.K. By contrast, Balfour Beatty, Britain's biggest builder, posted a first-half profit, reinstated its dividend, and said it hasn't yet experienced any fallout from the Brexit decision. 
The pound held near a three-year low versus the euro even after Wednesday's labor market figures. While it briefly rallied against the dollar and single currency, investors remained focused on the economic and political risks for the U.K.'s currency.

And Finally...
Brexit jokes are proving all the rage with comedians appearing at this year's Festival Fringe in Edinburgh. Among the cleaner ones compiled by the Daily Mail:
Lauren Pattison: "Don't worry, I'm not gonna do any Brexit jokes 'cause I know it could split the room 50/50... or should I say 52/48."
Olaf Falafel: "Why was the lettuce confused? It couldn't decide whether to vote Leaf or Romaine."
For more on Brexit follow Bloomberg on Twitter, Facebook and Instagram, and see our full coverage at Bloomberg.com