BOJ Cornered as Japanese Banks Running Out of Bonds to Sell
by and
Banks cut almost half of holdings since Kuroda began easing

Japanese banks 'losing capacity to cut' JGBs: Bank of America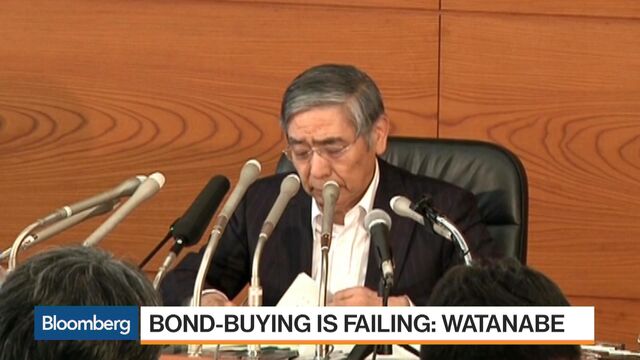 Japan's biggest banks are running out of room to sell their government bond holdings, pushing the central bank closer to the limits of its record monetary easing.
Japan Post Bank Co. and the nation's three so-called megabanks have almost halved their sovereign bond holdings to 114 trillion yen ($1.1 trillion) since March 2013, the month before the Bank of Japan began buying the securities on an unprecedented scale to end deflation. Government notes held by Mitsubishi UFJ Financial Group Inc., Sumitomo Mitsui Financial Group Inc. and Mizuho Financial Group Inc. are approaching the level where further reductions would involve securities they need as collateral.
"Banks are the first port of call" as the BOJ seeks to boost its JGB holdings by 80 trillion yen annually, said Shuichi Ohsaki, the chief rates strategist at Bank of America Merrill Lynch in Tokyo. "But they're losing capacity to cut beyond those that are reaching maturity."
Finding willing sellers is a headache for Governor Haruhiko Kuroda as the central bank prepares to review policy at next month's board meeting, amid growing concern among economists that he has few tools left to revive the economy. Record bond buying has already saddled the BOJ with more than a third of outstanding sovereign notes, draining liquidity from the market and making it more volatile.
Japan Post Bank, still the largest holder of the nation's bonds apart from the central bank, has been diversifying its portfolio to increase returns and boost profitability following an initial public offering last year. MUFG, Sumitomo Mitsui and Mizuho have been cutting their holdings to reduce the risk of losses if interest rates were to rise.

Banks in Japan need to hold a certain amount of JGBs to use as collateral in transactions with the central bank and in interbank markets. MUFG, the nation's largest lender, must hold about 15 trillion yen of JGBs to meet its requirements, Managing Executive Officer Kazuto Uchida said in Tokyo last month. The bank had 26.8 trillion yen of the notes as of June 30. And Mizuho signaled that it's unlikely to trim its 10.5 trillion yen of holdings.
"Considering the need for collateral and other factors, we generally don't envision cutting the balance any further," Masako Shiono, a spokeswoman for Mizuho, said in an e-mailed statement. Spokesmen for MUFG and Sumitomo Mitsui declined to comment on their JGB strategies.
For predictions on the implications of the BOJ's policy review, click here.
There may still be some leeway for the lenders to cut their bond holdings, according to Kentaro Kogi, an analyst at Citigroup Inc. "While banks are getting closer to reaching the amounts needed for collateral, they will have a certain degree of buffer built in so I don't think we can say this is the wall," Kogi said.
Japan Post Bank remains committed to diversifying its investment portfolio, the company said in an e-mailed statement, while declining to provide a specific target for holdings of government bonds or other assets. It has cut its JGBs by 42 percent since March 2013 to 79.7 trillion yen at the end of June.
Government bond trading volumes have plunged since Kuroda began easing in April 2013, sparking concerns over the functioning of the market. Trading at city banks, trust banks and insurers fell to 10.1 trillion yen in May, the lowest since at least 2004, according to Japan Securities Dealers Association data.
Benchmark 10-year JGB yields reached a record low of minus 0.3 percent last month before rising to about minus 0.1 percent after the BOJ left its policy rate unchanged. Yields on 20-year notes also fell below zero and 40-year bonds reached as low as 0.1 percent. Since BOJ Governor Kuroda ordered a "comprehensive review" of the central bank's policy, yields on all maturities have risen.
The central bank chief has repeatedly said that monetary easing isn't nearing its limits and the BOJ still has policy options it can implement.
"There's no doubt that the BOJ is running out of stock of JGBs to buy" as banks reach the limits of what they have to sell, said Yasuhide Yajima, the chief economist at NLI Research Institute in Tokyo. "They can keep upping prices to buy from insurers and pensions, but their own finances will limit this, so purchasing could get difficult."
Before it's here, it's on the Bloomberg Terminal.
LEARN MORE