Billionaire Birla May Sell Finance Unit Stake Before Listing
by and
Aditya Birla Financial Services may list by June: Birla

Group open to selling to sovereign, private equity firms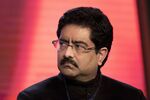 Indian billionaire Kumar Mangalam Birla's group may sell a 5 percent stake in its financial services unit to help raise capital, providing a valuation gauge for a business it plans to list next year.
The $41-billion apparel-to-aluminum conglomerate sees financial services as the next growth area with traditional businesses such as cement and chemicals expanding at a more subdued pace. Securing cheaper financing for the lending unit was one of the key motivations behind a group restructuring, announced last week, that would combine Grasim Industries Ltd. and Aditya Birla Nuvo Ltd. into a company with $9 billion in revenue. The proposal triggered a stock rout in both the merging entities.
There is "a provision for raising some primary capital as part of the merger" between Grasim and Aditya Birla Nuvo, according to Saurabh Agrawal, Aditya Birla Group's chief strategy officer. "For financial services, the requirement is capital. If somebody comes to us and gives us very attractive terms, then we will evaluate it."
Ashish Adukia, head of group corporate finance, said that a 156 billion rupee ($2.3 billion) valuation for Aditya Birla Financial Services Ltd., estimated by Religare Capital Markets Ltd. in an Aug. 12 report, seemed low. He declined to comment further on the unit's value.
The group is seeking to raise at least $200 million through the stake sale, according to people familiar with the matter, who asked not to be identified because the information is private. The unit will consider selling new shares to sovereign funds as well as private equity firms, according to Adukia.
Totally Opportunistic
The company may sell 5 percent "only towards the end of the merger scheme," Adukia said. "It'll be totally opportunistic, frankly."
Aditya Birla Nuvo added 0.5 percent at 1,244.5 rupees in Mumbai, while Grasim rose 0.8 percent. The benchmark S&P BSE Sensex slipped 0.2 percent.
Credit growth at the financial-services business has increased to 277.3 billion rupees as of March from 18.50 billion rupees in 2011, Adukia said. The business needs access to 10 billion rupees annually for a couple of years, he said.
Aditya Birla Nuvo has invested around 60 billion rupees in the financial-services unit, while Birla has invested around 25 billion rupees in the holding company, according to Adukia. The billionaire owner said Aug. 11 that a listing of the lending arm is expected by June.
The merged entity will have a 57 percent stake in the finance business, the owners will have a 17 percent stake and the rest will be held by the public, according to an Aug. 11 presentation on Grasim's website.
Before it's here, it's on the Bloomberg Terminal.
LEARN MORE