Protesters Tell Bank of England Bond-Buying Plan Isn't Working
by
Pressure group held demo outside central bank on Wednesday

Criticism of QE has grown since BOE restarted asset purchases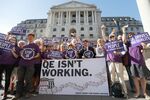 The Bank of England's quantitative-easing program isn't working and should be abandoned in favor of other stimulus measures, according to demonstrators who gathered outside the central bank on Wednesday.
About 40 protesters met and chanted "create money for people, not financial markets," "our money, our country, our future" and "stop QE," while waving placards and holding up a banner. The rally, organized by Positive Money, called for alternatives to bond-buying and came just two weeks after policy makers said they would restart asset purchases to help stave off the economic shock from Britain's Brexit vote.
Years of low interest rates and unprecedented stimulus globally have pushed down returns and punished savers. Critics of QE say it increases inequality and fuels asset bubbles, with the campaigners seeking different options that don't have the "same negative side effects," according to a press release they published before the demonstration. A spokesman for the BOE in London declined to comment.
To read about the banker who wants to revolutionize money, click here
While Andy Haldane, the BOE's chief economist, said in the Sunday Times newspaper he has "enormous" sympathy for savers and recognizes the side-effects of the central bank's actions, he maintained action was necessary to support growth and jobs in the aftermath of the decision to quit the European Union.
"It is rarely possible to please everyone all the time," Haldane wrote. The BOE's rate cut and additional QE were "intended to cushion the impact" of Brexit uncertainty, he wrote.
Positive Money advocates alternatives including the central bank directly funding fiscal measures, cash for households, tax cuts and spending on infrastructure and homebuilding.
The BOE successfully bought long-term gilts on Tuesday and Wednesday after failing to attract enough offers last week. The central bank plans to buy 60 billion pounds ($78 billion) of government bonds over six months.
Before it's here, it's on the Bloomberg Terminal.
LEARN MORE