Argentina's Soccer Success Can't Hide Its Grim Realities
Jonathan Wilson's new tome documents how soccer and the economy are inextricably linked.
By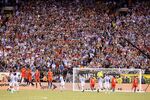 Soccer's role in politics and nation building has resulted in a bookshelf's worth of highbrow sports literature in recent years, epitomized by How Soccer Explains the World: An Unlikely Theory of Globalization (2004), The Ball Is Round: A Global History of Soccer (2006), and Soccernomics (2014). The amount of ink spilled makes sense: Soccer has about 3.5 billion fans globally, which is a lot of potential book buyers. FIFA, the game's governing body, recognizes more countries than the United Nations. Almost all have a soccer story.
Argentina's narrative is complicated, and Jonathan Wilson mines all of it in Angels With Dirty Faces: How Argentinian Soccer Defined a Nation and Changed the Game Forever (Nation Books, $17.99). What sets Wilson's book apart is the depth to which he goes to show how soccer weaves through Argentina's political and economic turmoil. He finds that the country's most celebrated moments and players are never as great as they seem.
For example, after Argentina won its first World Cup on June 25, 1978, President Jorge Videla, whose military regime waged a brutal war against its citizens, smiled as he presented the trophy to the team, giving a thumbs up to the packed stadium in Buenos Aires. Less than a mile away, celebrating prisoners in a makeshift detention center could hear the crowd roar—over the screams of fellow prisoners who were being tortured. Even Diego Maradona, who led his country to a World Cup title in 1986, scored 34 international goals, and might be the best ever to play the game, isn't without his foibles: He once kicked a celebrating opponent unconscious, and his international and club careers ended on failed drug tests.
Angels is filled with these whiplash-inducing depictions and more macroeconomic discussions, too. One of the moments Wilson touches on is the mid-'90s devaluation of the Mexican peso, which thrust much of South America into recession. The gap between haves and have-nots widened, and fan violence became a staple at club matches. In 2014, during Argentina's most recent default, the government was heavily subsidizing the country's soccer league, buying broadcast rights so games could be shown free nationwide. Depending on whom you ask, that was either a misuse of funds or a necessity to keep people happy. It wouldn't be the first time soccer helped do that: When Argentina's unemployment soared after the Great Depression, the sport staved off radicalism and anarchy, Wilson says. "Argentina soccer cannot escape the basic problems of the Argentinian economy," he writes.
If Argentinian soccer doesn't interest you, the book probably shouldn't find its way into your beach bag. Angels details every season of play in the domestic league back to 1891. But the 448-page tome is as much about how people turn to soccer when they want to escape daily life as it is about the sport. Self-deception isn't unique to Argentina, but the nation's reality has often been painful—it's a country primed for escapist fantasies and inclined to link its identity to its performance on the pitch. Which makes sense when you have players like Lionel Messi, whose talents bring the expectation of another World Cup. So far, he's 0-3.


Before it's here, it's on the Bloomberg Terminal.
LEARN MORE