A Self-Serve Dialysis Machine May Be Coming Home With You
Tablo is a largely automated machine designed for patients to use by themselves.
By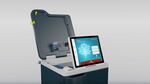 Innovator: Leslie Trigg
Age: 45
Chief executive officer of Outset Medical, an 85-employee company in San Jose
Form and function
Tablo is a 150-pound, 3-foot-tall, largely automated dialysis machine designed for patients to use by themselves, with a simple step-by-step procedure that makes it easier to operate than existing home machines.
Origin
Outset was founded as Home Dialysis Plus in 2003 with technology licensed from HP and Oregon State University and developed by co-founder Michael Baker.
Funding
Outset has raised more than $100 million, plus $40 million in debt financing, from investors including Warburg Pincus and Fidelity Investments.
Market
About 460,000 U.S. patients have end-stage kidney diseases that require help from dialysis clinicians, typically three times a week.
Early use
Outset says testers age 29-79 were able to prep the dialysis machine for use in 10 to 12 minutes with minimal training.
1. Connect

After logging into Tablo's tablet touchscreen using an encrypted USB stick, the patient installs a disposable filter in the machine, then inserts two needles into an arm so blood can flow through the machine.
2. Use

The patient follows Tablo's prompts to begin dialysis, which takes three to four hours. Tablo streams the data to the patient's health-care providers.
Next Steps
The Food and Drug Administration has approved Tablo for use in clinics and hospitals, and the company began selling the devices earlier this month; Trigg wouldn't disclose a price. Eventually the plan is to put them in homes. "Tablo redirects workflow away from what is, today, thousands of human steps per treatment," says nephrologist Melvin Seek in Ocala, Fla.


Before it's here, it's on the Bloomberg Terminal.
LEARN MORE