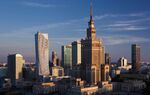 Eastern Europe is borrowing a line from the Jackson 5 as it bids to turn a tide of emigration that's eroding its economic prospects and compounding an already-gloomy demographic outlook.
"I want you back" is the slogan Latvia has chosen to lure home citizens who've upped sticks to Europe's west in search of more job opportunities and higher salaries. Poland's Return program offers tips on jobs, housing and health care, while Romania is teaming up with private business, offering scholarships and hosting employment fairs to tempt back talented citizens. The campaigns have gained fresh impetus after the Brexit vote threw into doubt the future status of foreign workers in the U.K.
"The diaspora living abroad represent a huge untapped potential for their countries of origin," said Rokas Grajauskas, an economist at Danske Bank A/S who's based in the Lithuanian capital of Vilnius. Stints abroad can be beneficial, instilling new skills and ways of thinking, he said.

The hunt for greener pastures isn't new. The Soviet collapse prompted an unprecedented outflow of eastern Europeans to the wealthier west, with European Union membership and the 2008 financial crisis triggering further waves. The Baltic region suffered most over the past decade, the latest Eurostat data show. Making matters worse, much of the continent is grappling with low birth rates and aging populations.
Losing workers to other countries has already cost 21 central and eastern Europe nations an average of about 7 percentage points of gross domestic product, according to the International Monetary Fund, which predicts a hit of as much as 9 percentage points over the next 14 years should current trends continue. It recommends the EU maintain funding to ease migration pressures, and that countries improve labor-market conditions and engage with their diaspora abroad.
As governments belatedly heed that last piece of advice, they may well recall other lines from the Jackson 5's 1969 hit song.
"I was blind to let you go," the group sang. "I need one more chance."
Before it's here, it's on the Bloomberg Terminal.
LEARN MORE