Univision Wins Gawker Auction With $135 Million Bid
by
Gawker chose Ziff Davis's 'stalking horse' $90 mln bid in June

Loss in privacy lawsuit was followed by bankruptcy filing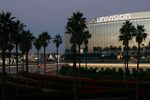 Univision Holdings Inc. made the winning $135 million bid to acquire Gawker Media, the online publisher driven into bankruptcy in June after losing an invasion-of-privacy lawsuit to Hulk Hogan, a person familiar with the matter said.
Univision beat out Ziff Davis, the only other participant in the auction, said the person, who asked not to be named because the bidding is private. Since Gawker selected Univision, Ziff Davis is entitled to a $2.47 million breakup fee, with expense reimbursement of as much as $1.25 million.
Gawker will complement Univision's aggressive digital push. In January, the largest U.S. Spanish-language broadcaster made a minority investment in Onion Inc., owner of the satirical website The Onion. Univision has also acquired The Root, a digital magazine geared toward African Americans.
"I am pleased that our employees are protected and will continue their work under new ownership -- disentangled from the legal campaign against the company," founder Nick Denton said in an e-mailed statement confirming the sale. "We could not have picked an acquirer more devoted to vibrant journalism."
New York-based Gawker picked Ziff Davis in June as the "stalking horse" bid, with an opening offer of $90 million. That proposal includes what Gawker called an "extraordinary provision": an agreement to retain Denton under a two-year consulting contract that pays about $200,000 annually. The contract would also have prohibited him from working with a competitor during that period.
Earlier this year Univision said it will combine several businesses in its new Fusion Media Group, including the El Rey channel, as well as the Root, the Onion, A.V. Club, Clickhole, Starwipe, Flama, Univision Digital and Univision Music.
Before it's here, it's on the Bloomberg Terminal.
LEARN MORE