U.S. ELECTION WRAP: Clinton May Benefit from Marijuana Measures
How pot-legalization measures on the ballot in swing states like Nevada could help Hillary Clinton win the White House
By , , and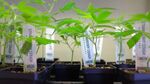 Measures to legalize marijuana use in some form will be on the ballot in at least nine states in November, potentially boosting youth turnout, which in turn could help Hillary Clinton in the political battlegrounds of Arizona, Nevada and Florida.
With recent polls giving her a runaway lead over Donald Trump among young voters, anything that brings more of that age group to the polls should be a plus for the Democratic nominee
"If pot and Clinton are able to drive young voter turnout that would benefit them both," Mike Noble, chief pollster of Phoenix-based OH Predictive Insights, said in an interview
The proposal to legalize recreational marijuana use in Arizona would be a "long shot" in a "normal" election cyle, he said

But in a year in which some reliably "red" states may be up for grabs in the presidential race, "this is the perfect storm to do it in"

"If you see Hillary and Bob Marley on the same campaign T-shirt this year, that is your clue you are in Arizona": Noble
The pot issue could help turn Arizona blue, but "only if the Clinton campaign invests" in the state, Chris Herstam, a one-time GOP state lawmaker who's now a Democratic strategist, said in an interview

"The marijuana initiative could perhaps add a percentage or two" to Clinton's support from young people who otherwise wouldn't vote, Herstam said

A RealClearPolitics average of three polls showed Trump with just a 0.3 point edge over Clinton in Arizona, which hasn't backed a Democratic presidential candidate since Bill Clinton in 1996
"The presidential election is likely to increase the chances of eventual U.S. legalization of marijuana, assuming Clinton wins," Bloomberg Intelligence analyst Kenneth Shea said
NOTE: Federal authorities last week denied a petition to remove marijuana from the list of Schedule 1 drugs that includes heroin, LSD and Ecstasy; they did, however, agree to allow additional research into the drug's medical benefits; see the Bloomberg QuickTake on pot legalization by Alison Vekshin

ON THE TRAIL
Trump stumps today in Wisconsin, where Clinton leads by 9.4 points in the RealClearPolitics poll average

The GOP nominee plans to meet with law enforcement in Milwaukee amid urban violence following the shooting of a black man by a police officer, according to the Washington Post
Trump is set to tape an appearance with Fox News' Sean Hannity tonight in Milwaukee, then hold a rally in nearby West Bend; he also will attend fundraisers in the Badger State
Incumbent GOP Senator Ron Johnson won't be joining Trump on the trail, according to his campaign, citing prior commitments in the northern part of the state

Johnson trails his Democratic challenger, former Senator Russ Feingold, by 6 points, a Marquette University Law School poll released last week showed
Later this month in the swing state of Iowa, Trump will headline Senator Joni Ernst's "Roast and Ride" barbecue picnic

Trump has assured Ernst he'll be there for her second annual fundraiser in Des Moines on August 27, aides told Bloomberg Politics; see full story here

Clinton today at a voter registration event in Philadelphia said she's taking nothing for granted, despite polls showing her leading Trump both nationally and in most swing states, and she urged people not to sit on the sidelines in November

The former first lady also sought to contrast what she called Trump's message of fear to the courage and spirit of Olympic athletes

POLLS
In Virginia, Clinton leads Trump by a 14-point margin, 52%-38%, among registered voters, according to a Washington Post poll
Virginia is among three states where the pro-Clinton super-PAC Priorities USA is suspending TV ads, Bloomberg's Kendall Breitman reported late yesterday

The group is also hitting pause on its media push in Colorado and Pennsylvania, at least until the end of next month, a person familiar with matter said
See full story here

Clinton leads Trump in Florida by 9 points among likely voters, or 48%-39%, according to a Monmouth University poll

1964
This year's election somewhat mirrors the 1964 presidential race, historian Robert Caro said at a fundraiser for the East Hampton Library in New York

The Lyndon B. Johnson biographer outlined three parallels to the campaign that ended with LBJ's landslide over Barry Goldwater: worry about nuclear weapons, a focus on race issues, the potential fallout from Election Day
"I may be the only person who sees a ray of hope here, if Trump is destroyed by a large margin," Caro said
See full story by Bloomberg's Amanda Gordon here

ETC
Roger Ailes, who resigned his post as Fox News chairman last month amid sexual harassment allegations, is helping Trump with his debate preparation, New York Times reported

Trump spokeswoman Hope Hicks said the report is false, CBS reported

Clinton is preparing for a possible Monica Lewinsky-related attack from Trump, according to Politico

As part of her preparation for the first presidential debate next month, Clinton is expected to work on responses to issues such as the death of Vincent Foster and her husband's extra-marital affairs

The FBI is sending its Clinton e-mail investigation report to Congress this afternoon, CNN reported, without citing sources
"Stop Trump" presidential candidate Evan McMullin will be on the ballot in Utah, Deseret News reported; he also has qualified in Colorado
Trump is set to get his first classified briefing tomorrow, ABC reported
Trump's history of breaking deals could harm U.S. foreign policy, Bloomberg's Mike Dorning reported; see full story here
Clinton named former Interior Secretary Ken Salazar to lead the team planning for her potential White House transition, Bloomberg's Jennifer Epstein reported



TONIGHT'S PRIMARIES
AK-SEN: Republican incumbent Lisa Murkowski, who heads the Senate Energy and Natural Resources Committee, favored to defeat three little-known challengers

Murkowski lost 2010 primary to conservative lawyer Joe Miller, then re-elected in write-in campaign
Ray Metcalfe, former Republican state legislator, and Edgar Blatchford seeking Democratic nomination; general election race rated "likely" Republican by Cook Political Report, "safe" Republican by University of Virginia's Center for Politics

AK-ALL: Rep. Don Young, longest-serving Republican currently in House, faces three GOP challengers as he seeks 22nd full term in statewide district he's held since 1973

Best-funded candidate is three-person Democratic primary is Steve Lindbeck, former public radio executive

WY-ALL: Liz Cheney, lawyer and former State Dept aide, is best-funded candidate in crowded GOP primary for statewide seat once held by her father, former Vice President and Defense Sec Dick Cheney

Liz Cheney's primary opponents include state Sen. Leland Christensen, state Rep. Tim Stubson; winner to face Charlie Hardy or Ryan Greene, who are seeking Democratic nomination
Republican Cynthia Lummis isn't seeking re-election; Wyo. was 2nd-most Republican state in 2012 presidential election, voting 69%-28% for Mitt Romney over President Obama
SENATE RACES
FL: GOP Sen. Marco Rubio said his late decision to seek re-election shows it's "certainly not my plan" to run for president again in 2020, according to Miami Herald

"I've basically gotten into one of the toughest races in the country, on almost the very last second possible, and in an environment where I don't control what's happening at the top of the ticket," Rubio told the Herald's editorial board
Rubio faces developer Carlos Beruff in Aug. 30 primary; Rep. Patrick Murphy favored against Rep. Alan Grayson in Democratic contests

NC: One Nation, conservative issue-advocacy group led by ex-chief of staff to Majority Leader Mitch McConnell, released TV ad lauding GOP Sen. Richard Burr's work on Medicare policy

As social-welfare organization organized under section 501(c)(4) of tax code, One Nation doesn't disclose donors and is limited in how much it can directly intervene in elections, though it can air so-called issue ads
Burr seeking third term against Democrat Deborah Ross, a former state legislator
GOP strategist Tim Miller said on Bloomberg TV's With All Due Respect yesterday that the "presidential race is over" and that it's "absolutely critical that all of the Republican groups start to focus their efforts on going to states like North Carolina, trying to save people like Richard Burr, so that we have a check on President Hillary Clinton"

NH: GOP Sen. Kelly Ayotte again made distinction that she plans to vote for Trump but isn't endorsing him, while her Nov. challenger, Democratic Gov. Maggie Hassan, declined to directly answer when asked three times if Clinton is honest, CNN reported

"I've actually said that I am going to be voting for him, but I do have significant disagreements with him, which I've been very clear on," Ayotte said of Trump. "So I won't be endorsing him"
Hassan answered question about Clinton's honesty by saying ex-sec of state's "experience and her record demonstrate that she is qualified to hold" presidency; Hassan's campaign later clarified she believes Clinton is honest, according to CNN

NV: Senate Majority PAC, Democratic super-PAC run by advisers to Minority Leader Harry Reid, released TV ad saying GOP Rep. Joe Heck and "Wall Street" support plan of "privatizing Social Security" under which "retirement security gets risked on the stock market"

Ad cites 2010 Las Vegas Review-Journal story on Heck's support for plan to allow individuals to manage their Social Security payroll tax contributions in personal accounts
Ad says "Wall Street types" have given more than $500,000 to Heck's campaigns, citing Center for Responsive Politics analysis of campaign funds he has received from people who work in securities/investment industry
Heck opposed by Democrat Catherine Cortez Masto, former state Atty. Gen. running with support of Reid, who is giving up is seat
HOUSE RACES
AZ-04: Texas GOP Sen. Ted Cruz endorsed Republican Rep. Paul Gosar, saying three-term House member "has worked tirelessly to defend the issues important to conservatives like stopping illegal immigration and fighting President Obama's lawless executive actions"

Gosar faces Aug. 30 primary challenge from pastor/ex-Buckeye City Councilman Ray Strauss in strongly Republican district that includes all or part of seven counties in western and central Ariz.

FL-05: Democratic Rep. Corrine Brown had <$25k cash-on-hand after raising <$14k in 41-day period ending Aug. 10, according to Federal Election Commission filing

Brown, first elected in 1992, received <$4k from individuals and the rest from PACs
Brown on July 8 was charged in 24-count fraud indictment involving education charity; she's denied wrongdoing
Brown faces ex-state Sen. Al Lawson in Aug. 30 primary after court-ordered redistricting overhauled district to reach from Jacksonville to Tallahassee instead of from Jacksonville to Orlando

NY-19: Democratic law professor Zephyr Teachout proposed debate with billionaire hedge-fund executive Paul Singer, prominent GOP donor who has funded super-PAC supporting Republican opponent John Faso, according to Albany Times-Union

"Paul Singer, I challenge you to come here and have a debate" on issues including job offshoring, education, climate change, and fracking because "the people of the 19th District deserve to hear your actual voice when you're putting so much money into trying to buy up representation," Teachout said in video posted to her Facebook page
Singer, who runs Elliott Management Corp., and billionaire Robert Mercer each gave $500k to super-PAC that backed Faso in June primary
Faso, former state representative, said in statement Teachout "is not just a carpetbagger, but a grandstanding one as well"
Teachout, Faso vying to succeed retiring GOP Rep. Chris Gibson in central Hudson Valley district that voted 52%-46% for Obama in 2012
Before it's here, it's on the Bloomberg Terminal.
LEARN MORE