U.S. Buyback Announcements Tumble to a 2012 Low
A bad omen for U.S. stocks.
by and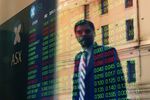 Stock buybacks appear to be slowing down, suggesting either corporate America's outlook has dimmed, stock valuations have become prohibitively high or, most optimistically, that companies are starting to listen to investors and put funds toward other uses.
Buybacks announced for the second quarter's earnings season between July 8 and August 15 totaled an average of $1.8 billion a day, the lowest volume in an earnings season since the summer of 2012, according to TrimTabs Investment Research.
Share repurchases have been a key driver of this year's stock market rally, despite a notable deceleration relative to to the same period in 2015. In the first seven months of 2016, buybacks totaled $376.5 billion, according to TrimTabs. That's down 21 percent from $478.4 billion in the first seven months of last year. Equity buybacks last week totaled just $2.6 billion, while record highs in U.S. stocks triggered an increase in new equity offerings. 
"The reluctance to pull the trigger on share repurchases suggests corporate leaders are becoming less enthusiastic about what they see ahead," David Santschi, chief executive officer of TrimTabs, said in a press release on Tuesday. That means "buybacks aren't likely to provide as much fuel for the stock market as they have in the recent past."
According to TrimTabs, just five companies have announced buybacks of more-than $3 billion this earnings season: Biogen Inc ($5 billion), Visa Inc ($5 billion), CBS Corp ($5 billion), American International Group Inc ($3 billion), and Twenty-First Century Fox Inc ($3 billion).

A more bearish market outlook from U.S. companies may not be the proximate cause of the tail-off in buyback fever. In a research report earlier this month, analysts at Goldman Sachs Group Inc. said the pace of buybacks is slowing due to high valuations, which suggests stocks could struggle to maintain their recent highs.
Bank of America Merrill Lynch's monthly survey of money managers revealed that a net 69 percent of those surveyed say that businesses aren't investing enough — close to a record level for the survey. If companies pay heed to investor demands for greater capital expenditure, that could crimp their firepower to launch share buybacks.  
Critics contend buybacks are all-too-often an inefficient use of excess cash, and can flatter earnings-per-share ratios by reducing a company's outstanding stock. They can also be used as a to veil boosts in top-level pay. The pace of corporate purchases of equities has outpaced issuance this year, with announced corporate buying — new cash takeovers plus new stock buybacks — totaling $106.7 billion since the start of July, while new offerings have totaled $33.6 billion, according to the research firm.
Before it's here, it's on the Bloomberg Terminal.
LEARN MORE