U.K. Inflation Accelerates as Pound Drop Boosts Import Costs
by and
Import prices rise annual 6.5%, most since December 2011

ONS says weaker pound starting to boost manufacturers' costs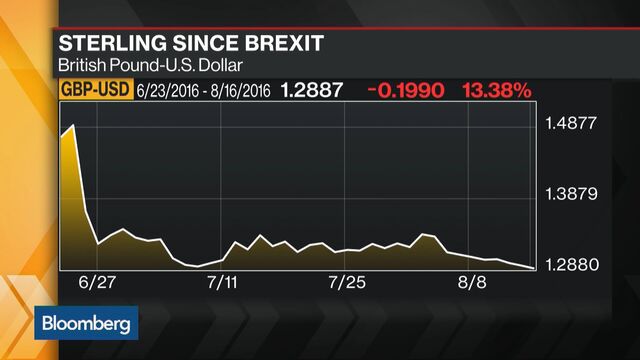 U.K. inflation accelerated in July and there were signs the weak pound will fuel further price pressures with import costs jumping the most in more than four years.
Consumer-price growth picked up to 0.6 percent from 0.5 percent in June, the Office of National Statistics said in London on Tuesday. Economists had forecast that it would stay at 0.5 percent, according to the median estimate in a Bloomberg survey. Input costs surged an annual 4.3 percent last month, ending 32 consecutive declines, while import prices jumped the most since 2011.

After weeks of surveys, the inflation data marks the first hard numbers on the economy in the wake of the Brexit vote in June. While the full economic impact of the U.K.'s decision to leave the European Union will take time to fully be felt, reports this week on the labor market, retail sales and the public finances will be scrutinized for clues.
ONS statistician Mike Prestwood said while there's "no obvious impact" yet on headline inflation from the June 23 vote, producer-prices "suggest the fall in the exchange rate is beginning to push up import prices faced by manufacturers."
Brexit Threats
The pound has dropped about 13 percent against the dollar since the referendum. As a result, the BOE expects inflation to reach its 2 percent target faster than previously anticipated, though that didn't stop it responding to Brexit threats with new stimulus this earlier month, including the first interest-rate cut since 2009.
"We expect inflation to pick up fairly rapidly over coming months," said James Smith, an economist at ING Bank NV in London. "However, the lower outlook for growth means that the Bank of England will continue to 'look through' this and is likely to deliver a further rate cut later this year."
Transport costs were the main boost to the inflation rate in July, with gasoline and second-hand cars having the largest impact, according to the ONS. But the most noticeable early impact of sterling's weakness was seen at the producer level. The cost of imported materials as a whole -- which includes metals, parts and chemicals -- rose an annual 6.5 percent in July, while imported food materials jumped 10.2 percent.
Factory-gate prices rose 0.3 percent in July from June and were up 0.3 percent year-on-year, the ONS said. That's the first annual increase in more than two years.
Before it's here, it's on the Bloomberg Terminal.
LEARN MORE