Trump to Headline Joni Ernst's 'Roast and Ride' Event in Iowa
The Republican nominee  has been looking for more retail politicking opportunities lately.
By and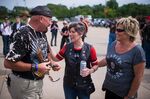 Donald Trump, who has been looking for more retail politicking opportunities lately, will head to a barbecue picnic in late August hosted by a U.S. Senator Joni Ernst in Iowa, a swing state he still has a chance to win.
Trump has assured Ernst that he'll be there for her second annual Roast and Ride fundraiser in Des Moines on Aug. 27, aides told Bloomberg Politics. The inaugural event last summer attracted seven presidential contenders, all of whom stepped off the stage to mingle with voters of the state that held the country's first primary. Trump did not attend and came in second in that February primary behind Senator Ted Cruz of Texas. 
Mike Pence, the Republican vice presidential nominee, will be in Iowa even sooner, campaigning at the State Fair on Saturday, an aide told Bloomberg.
As other battleground states slip away, including Pennsylvania, Virginia and Colorado, Trump and Democratic presidential rival Hillary Clinton are essentially tied there, according to a polling average compiled by Real Clear Politics.
Trump enjoys the support of the governor and a good chunk of the GOP establishment in Iowa, a rural state dominated by the white voters who make up Trump's base. His immigration message has also been well-received by state Republicans.
Ernst, who in 2014 won the Senate seat vacated by Democrat Tom Harkin when he retired, has turned her Roast and Ride into the conservative answer to the Harkin's legendary Steak Fry fundraiser, which auditioned dozens of presidential candidates over its 37-year history.
Ernst's big political festival will feature a motorcycle ride from the Big Barn Harley-Davidson store in Des Moines to the Iowa State Fairgrounds for an afternoon of roasted meats, music and politicians. 
In recent weeks, Trump has been scheduling more one-on-one campaigning, including short gatherings with small groups of business people, law enforcement officials and veterans.
The Roast and Ride in June 2015 attracted GOP presidential hopefuls Ben Carson, Carly Fiorina, Lindsey Graham, Mike Huckabee, Marco Rubio, Rick Perry and Scott Walker. Perry and Walker were the only two who rode Harleys.
Walker, the governor of neighboring Wisconsin, was the frontrunner at the time, and Trump had the support of just 4 percent of likely Iowa voters, a Bloomberg Politics/Des Moines Register Iowa Poll in late May 2015 found.
Before it's here, it's on the Bloomberg Terminal.
LEARN MORE