Trump's Taste for Business Hardball May Sour U.S. Foreign Policy
By
The real estate mogul has a history of breaking deals

'It's called negotiation,' he said in deposition for golf suit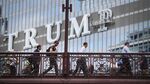 As Donald Trump watched sales prices rise for apartments in the new Trump International Hotel and Tower in Chicago in 2007, he reneged on a promise to give early buyers a 10 percent discount.
They included lawyers, architects and brokers who had helped Trump erect the building. Some sued, while others felt compelled to pay the higher price. The incident illustrates a business philosophy that Trump has promised to adapt to international relations, if he is elected president: an alacrity to dispense with deals that he views as impediments.
"Even when he's bound by a written contract, that still doesn't limit what he thinks he can say or do," said Nathan Diamond-Falk, a Chicago attorney who purchased a unit with his wife, Judi, an architect who designed the project's sales office, and later sued. "I wouldn't believe a word he says."
Trump has promised to be a no-holds-barred negotiator and undo a range of global accords if elected president, a sharp break from traditional U.S. diplomacy that would have far-reaching consequences for the nation's role on a world stage in which credibility is a crucial asset. His stance is a reflection of the hardball he's played for decades as a real estate mogul. His taste for extreme tactics -- refusing to pay suppliers, defaulting on debts or threatening lawsuits to win concessions -- isn't unusual in the industry where he made his fortune.
For a graphic explaining Trump's lawsuits, click here.
"A sizable minority of players regard contracts as aspirational and a starting point for the next negotiation," said Joshua Stein, a Manhattan commercial real estate attorney. "It is part of the culture, I'm afraid."
'Radical Islam'
A spokeswoman for Trump's presidential campaign, Hope Hicks, e-mailed a one-sentence statement in response to a request for comment on this article and the Chicago episode in particular. "Mr. Trump is one of the most successful developers in the world and is very proud of the great Chicago tower, one of the great hotels of the world," she said.
Trump delivered a major foreign policy speech on Monday in which he said U.S. relationships with other nations would hinge on whether they support ending "radical Islam." "Any country that shares this goal will be our ally," he said.
Trump's election would put to the test one of the most enduring propositions in U.S. politics: that a high-flying CEO can successfully apply business pragmatism to statecraft. He trails his Democratic opponent, Hillary Clinton, by eight percentage points in a head-to-head matchup, according to an average of national polls by Huffington Post's Pollster.com site.
"I've always kind of chuckled at the idea," said Bill Daley, a former bank president and ex-president of SBC Communications who was secretary of commerce under President Bill Clinton and White House chief of staff to Barack Obama. "The strengths you need to have as a president are different than you need as a CEO and vice versa."
'Friends and Family'
As he was building the Chicago tower, Trump gave "friends and family" the opportunity to buy apartments in advance at discounted prices. The arrangement allowed him to show lenders and potential buyers in the building that some units were pre-sold.
Diamond-Falk and his wife contracted with Trump to buy their apartment for $1.2 million, including the discount, according to a copy of the contract submitted to the circuit court in Illinois. Judi Diamond-Falk was an architect and interior designer who worked on the building's sales office, her husband said. After Trump reneged, the couple sued. They reached a settlement with Trump that Diamond-Falk declined to discuss, citing a confidentiality provision.
In their suit, the Diamond-Falks alleged that Trump entered into the "friends and family" contracts to obtain financing for the building, planning all along to breach the agreements if the unbuilt apartments appreciated during construction. The couple accused Trump of engaging in "a scheme or device to defraud" them.
Trump's attorneys responded that the couple's claim was "unsupported by factual allegations." The case was settled and dismissed in April 2008.
On Monday, trial began on a lawsuit against Trump National Golf Club Jupiter in Florida by members who claim the club breached a contract allowing them to use the facilities after resigning until their deposits were refunded. In a video deposition played in the courtroom, Trump acknowledged denying use of the facilities to members who resigned despite their contracts. "It's called negotiation," he said.
Hundreds of Trump's suppliers claim he has refused to pay for work they have done for them, frequently using the threat of extended court delays to force smaller businesses to accept settlements for a fraction of the amount owed, according to a USA Today analysis.
Jaundiced View
Trump himself has suggested a general disregard for the niceties of the business world, offering a jaundiced view of the real estate industry in his 1987 best-seller, "The Art of the Deal."
"You have to understand where I was coming from," he wrote. "While there are certainly honorable people in the real estate business, I was more accustomed to the sort of people with whom you don't want to waste the effort of a handshake because you know it's meaningless."
On his path to winning the Republican nomination, Trump has hinted at a similar disregard for the conventions of diplomacy. He has threatened to ignore treaty obligations to defend North Atlantic Treaty Organization allies unless they shoulder more of the financial burden of the alliance and vowed to tear up the Obama administration's nuclear agreement with Iran.
He's also declared he would disregard global trade accords, including agreements that established the World Trade Organization, and slap retaliatory tariffs on U.S. businesses that move operations overseas. If the Geneva-based WTO -- of which the U.S. is a member -- doesn't like it, he has said, it can try functioning without the world's largest economy. He's said he would force renegotiation of other agreements ranging from the NAFTA trade deal to the Geneva Convention outlawing war crimes and torture.
He even hinted that he might renegotiate terms on more than $19 trillion of debt owed by the U.S., much of which is held overseas by central banks.
Different World
Yet, while Trump's tactics in business have enriched him, the stakes are very different in the world of international affairs, say diplomats and foreign policy analysts. Even with its unrivaled military and economic strength, the U.S. depends on a web of allies to project power around the world, to fight terrorism and to counter rivals such as Russia and China.
"These are not bottom-line enterprises where you can take your money and go home or find new partners," said Aaron David Miller, an adviser to Republican and Democratic administrations on Middle East negotiations and a foreign-policy analyst at the Wilson Center.
For a global superpower, credibility is a core asset in dealing with friend and foe alike and the stability of international norms is a source of economic and strategic strength. Above all in international affairs, nations make strategic alliances to protect themselves at moments when they have the least leverage.
"No one ever seeks a commitment for easy times, they seek them for the hard times," said Dennis Ross, a former State Department official who is now a fellow at the Washington Institute for Near East Policy. "If you create the image that we're not going to live up to them when the situation changes, then pretty soon you're not going to have any agreements."
— With assistance by Susannah Nesmith, and Paul Failla
Before it's here, it's on the Bloomberg Terminal.
LEARN MORE